Prices shown in USD | All items shipped from PA, USA
Range Officer Assist Kit
Range Officer Assist Kit
Reviews:
(Current Reviews:

5

)
The DAA Range Officer Assist Kit is a must have item for anyone planning to score targets out on the range.

The kit includes:
· A smart looking Aluminum black anodized card holder case (which has extra room for business cards)
· Two DAA IPSC Scoring Overlay gauge, allowing you to use one as a line marker
· A 3X power magnifying card
· 4 double sided printed cards with many of the most useful rules, critical to remember, such as DQ regulations, equipment pointers and more.

Match Organizers: if you would like to offer this kit to your match RO's and officials, we can custom engrave your logo on the cases. Contact us for details.

Club managers: order 20 pcs or more – and get a free logo engraved on your case.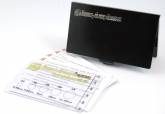 Lior Bar-On
Date Added: Thursday 04 January, 2018
Very useful product. When range officers are busy and don't wish to delay the shooting, the contents of this kit are useful for magnifying targets, measuring equipment distance from shooter torsos, and using the right rule to call out infractions. Strongly recommended.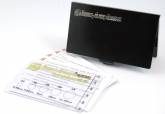 Gale Breitkreutz
Date Added: Wednesday 12 April, 2017
Item exactly as described,well made and useful. Get some strange looks when I pull it out. The look is "What is that?" IMO that alone is worth the cost.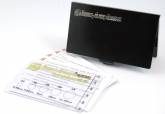 Peter Wanderoy
Date Added: Thursday 09 July, 2015
This is a handy kit to carry around when working as RO! - The rule-cards are good to have for easy access. It is very handy and most of the used rules are there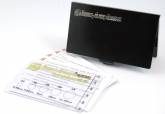 Kjell Kjørstad
Date Added: Monday 25 February, 2013
This is a handy kit to carry around when officiating! - The rule-cards are good to have for easy access when verifying rule numbers for score sheets when DQs/Warnings/Reshoots and so on occur. The magnifying glass is also good to have for range officers when scoring targets.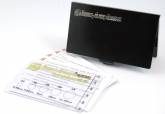 Einar Johan Holst
Date Added: Tuesday 15 January, 2013
The Range Officer Assist Kit was just as expected. It is very handy, and most of the usedvanlig rules can be found on the cards. Fits in shirtpocket. Good choice!
Range Officer Assist Kit
Alpha Dynamics USA
2908 Betz Court, Orefield, PA 18069

Phone: (888) 628-3233 or (610) 366-9752
Fax: (610) 366-9680
E-mail: sales@doublealpha.biz