Prices shown in USD | All items shipped from PA, USA
Mr.Bulletfeeder spare spacer set for Collator Nose Guide
Mr.Bulletfeeder spare spacer set for Collator Nose Guide
Reviews:
(Current Reviews:

3

)
A set of nose guide spacers for your Mr.Bulletfeeder/Mr.Bulletfeeder Pro collator. The set includes 4 spacers: 2x1.6mm, 2x0.8mm, and with these parts you can adjust to any bullet length.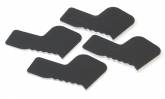 Deivy de Castro
Date Added: Sunday 19 February, 2017
I'd enjoyed this item of Double Alpha for sure. Because always whwen I ask for a product like that, Double Alpha returns quickly.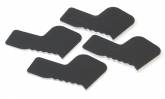 Edward Griffin
Date Added: Sunday 13 December, 2015
I own 6 bullet feeders. the only problem I have is with 240 grain bullets. I obviously like these machines. they are running on my Dillon Super 1050's. The 223's 9mm 40 cal and 300 blk. run flawlessly. I load up to 50,000 round a week. Couldn't do it without my MR. Bullets.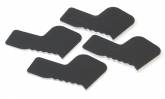 jerryz
Date Added: Friday 25 September, 2015
It won't work without it. xxxxxxxxxxxxxxxxxxxxxxxxxxxxx
Mr.Bulletfeeder spare spacer set for Collator Nose Guide
Alpha Dynamics USA
2908 Betz Court, Orefield, PA 18069

Phone: (888) 628-3233 or (610) 366-9752
Fax: (610) 366-9680
E-mail: sales@doublealpha.biz