Prices shown in USD | All items shipped from PA, USA
DAA PSP Brush
DAA PSP Brush
Reviews:
(Current Reviews:

2

)
The DAA Powder-Spill-Prevention (PSP) Brush is a simple yet efficient reloading accessory that solves a real issue: How to prevent small amounts of powder being spilled out of the case, as the tool head of the progressive reloading press indexes?
This problem is even more acute for reloaders using Autodrive systems on their Dillon machines, in which case you cannot use your hand to stabilize the case, as the shell plate indexes forward. Especially when reloading very full cases, powder spill can have a real influence on the accuracy of the ammo you are producing, and the accumulating powder on your shell plate can prevent the smooth function of your press, and require frequent cleaning.
Introducing the DAA PSP brush solution. Just click this part onto your Dillon press, and immediately your powder spill issues will be greatly reduced or completely eliminated. You'll be able to index your shell plate faster, and produce more consistent, accurate ammo, while keeping your shell-plate clean and powder free.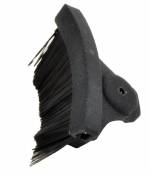 Frank Paolini
Date Added: Thursday 22 November, 2018
The magnet fell out immediately and needed to be re glued with 2 part epoxy. The bristols seem too long as they cause the case to be canted at the bullet feeding station. So far though the Mr. Bulletfeeder set up still functions so probably not a major drawback.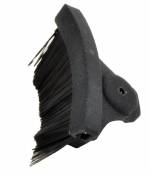 Jeffrey S.
Date Added: Wednesday 21 November, 2018
Super Fast shipping, product works as advertised. A great addition to the 1050!
DAA PSP Brush
Alpha Dynamics USA
2908 Betz Court, Orefield, PA 18069

Phone: (888) 628-3233 or (610) 366-9752
Fax: (610) 366-9680
E-mail: sales@doublealpha.biz