Prices shown in USD | All items shipped from PA, USA
DAA Magnetic 12GA Caddy 6-shot
DAA Magnetic 12GA Caddy 6-shot
Reviews:
(Current Reviews:

2

)
The DAA Magnetic 12GA Caddy is a new innovative approach to competition carry of 12GA ammo. Gripping the shells only by their base, eliminates the need to make adjustments as you change from one shell length to the next. The caddy utilizes the same belt-hanger used for our Racer and Magnetic pouches. This belt-hanger allows you to attach the Caddy to any 1.5" belt, firmly and securely without any wiggle or play. The Caddy can be assembled from either side, and at your chosen angle, providing you an unlimited range of positioning options to suite your preferred reloading technique.

The powerful magnets hold the individual shells securely and allow you to grab as many or as few as you choose, while the remaining shells are held in place for later use. Unlike other traditional caddy designs, the DAA Magnetic 12GA Caddy holds the lower shells securely even when the top shells are removed.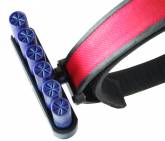 nicolas hiladakis
Date Added: Thursday 16 October, 2014
the best 12ga caddy, the magnets have the right power, you can run in the field without loosing a shell but you can easy catch the shells the way you want , slide them up or pull them out ! if you have small hands and you can't hold 4 shells take the 6-shot caddy and pull 3 shells two times.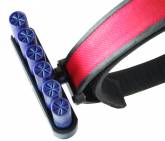 Anderson
Date Added: Thursday 11 July, 2013
Excellent product, great quality and easy handling. Shop highly reliable, delivered my products here in Brazil without any problem. Sellers very attentive. I recommend.
DAA Magnetic 12GA Caddy 6-shot
Alpha Dynamics USA
2908 Betz Court, Orefield, PA 18069

Phone: (888) 628-3233 or (610) 366-9752
Fax: (610) 366-9680
E-mail: sales@doublealpha.biz