Prices shown in USD | All items shipped from PA, USA
DAA 2-in-1 Seating and Crimping Die
DAA 2-in-1 Seating and Crimping Die
Reviews:
(Current Reviews:

12

)
We sell a lot of Bullet Feeders. And the most common request we hear is "Can I used the Bullet Feeder on my 550?" Or "can I use the Bullet Feeder and still continue to use my powder check on my 650?".
The answer to both questions is, YES, provided you combine your Seating and Crimping operations into one station, to free up the station your Bullet Feeder will need.
Such Seating and Crimping dies are available, and so we decided it was timer we made them directly available to our customers as well. We teamed up with one of the best Die manufacturers, LEE Precision, and are now pleased to offer you our DAA 2-in-1 Seating and crimping dies.
These quality stainless steel dies, enable you to Seat and Crimp in one station, without compromising the quality of your ammo. It may take a little longer to get the adjustments just right, but once calibrated correctly, this die will produce consistent and precise quality ammunition.
These dies include an O-ring lock machined into the nut, which allows you to hand tighten only – and the die stays put! They include a finger adjustable floating bullet Seater, are heat treated to ideal hardness and polished to the smoothest finish.
DAA 2-in-1 Seating & Crimping die – Set up Instructions
This die frees up a station in your progressive-press tool head, making space for a bullet dropper die on your 550, or, allows you to use a bullet dropper alongside a powder-check on your 650 or 1050.
Adjusting the Die:
Back out the Bullet Seater adjustment screw several turns (the smaller diameter cap on top of die body).
Raise your shell plate all the way up (or lower your tool head on a 1050) and screw in the die body until it makes contact with the shell plate. Then, back it out three full turns. Lightly finger tighten the lock ring. Bullet length is adjusted by turning the Bullet Seater adjustment screw in or out as needed. If more crimp is desired, screw the die body in slightly and test repeatedly until the correct amount of crimp is achieved. Note that you will have to adjust the Bullet Seater height as you adjust the crimp.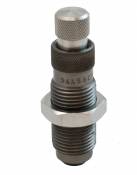 Larry
Date Added: Thursday 31 January, 2019
Quality product. As others, I wanted to use the XL650 powder check system and Mr bullet feeder so this was a great option.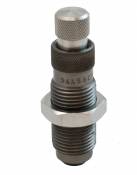 Doin
Date Added: Friday 09 November, 2018
The two and one die was easy to install and works like a champ. It is the solution that works well with the Dillon 6540XL when you use a powder check system. I definitely am glad I bought this for my system...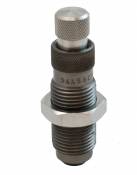 larry allen
Date Added: Monday 30 July, 2018
i am very happy with this die.i, to was sceptical about seating and crimping at the same station, but it worked satisfactly. i used this on a new lee breechblock pro press, and i was able to load at dillon rate for about half the price! i am using the bullet feeder you provide, with a powder drop tube that i modifyed to use with the lee autodrop measure. i would suggest that you consider an option of the lee style drop tube,rather than the dillon.many cost consious reloaders will want to use your products both for economy and especially reliability, as the lee bulletfeeding system is notoriously trouble-prone and your system works like a dream.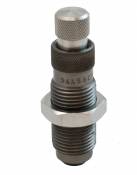 Will
Date Added: Tuesday 17 July, 2018
I bought the 2-in-1 to compliment the Mini Bullet-Feeder for my 550. Excellent results - very happy!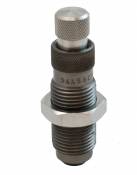 Tom
Date Added: Monday 16 July, 2018
There is much negativity about seating and crimping in one station online that it had me very hesitant to try. I really think these people putting down havent actually ever tried it. It was super easy to set up and adjust correctly and it works perfectly. Plus I get the added benefit of keeping my powder checker. I would definitely recommend.
DAA 2-in-1 Seating and Crimping Die
Alpha Dynamics USA
2908 Betz Court, Orefield, PA 18069

Phone: (888) 628-3233 or (610) 366-9752
Fax: (610) 366-9680
E-mail: sales@doublealpha.biz
Also available in Combo(s)