Prices shown in USD | All items shipped from PA, USA
Combo: C-More RTS2 and DAA RTS2 Scope Mount
Combo: C-More RTS2 and DAA RTS2 Scope Mount
Reviews:
(Current Reviews:

7

)
Save 25Euro/25USD when purchasing this bundle consisting of:
1x C-More RTS2 Scope
1x DAA RTS2 Scope Mount
C-More RTS2
The latest C-More RTS2 red dot reflex sight series. It is the smallest reflex sight. Like other C-More competition sights, the all new RTS2 head up display provides an unobstructed sight picture in which the red dot hovers on the sight line, illuminating the point of impact on the target, allows you the fastest target acquisition possible, without straining your eyes. It also uses a beam-splitter lens made of hard coated glass for maximum scratch resistance and light transmission. The parallax free design enables targets to be acquired without the need to center the dot in the lens.
The RTS2 uses a CR2032 lithium battery, which can be replaced without dismounting the sight. This eliminates the trouble of re-zeroing after replacing the battery. And the battery compartment is O-ring sealed for waterproofing. A 10 position manually operated push button switch provides precision intensity adjustment, previous intensity return, and auto off after 8 hours of inactivity.
The C-MORE RTS2 series reflex sight is made of aviation alloy housing. And the electronics within are designed to handle the hottest loads from large caliber firearms. The RTS2 provides 1 moa click adjustment for windage and elevation resulting in supreme accuracy. A positive locking screw for both windage and elevation lock the adjustment screws in position.
Note: The RTS2 can be attached to a Picatinny or Weaver Rail out of the box, or with the Rail Mount removed to mount the sight directly.
The RTS2 Package comes with:
1 x RTS2 red dot reflex sight
1 x RTS2MT200 Rail Mount (Attached)
1 x Protective Sight Cover
1 x CR2032 Battery (Installed)
1 x Adjustment Wrench
2 x Rail Mount Wrenches
2 x Direct Mounting Screws with Wrench
1 x Instruction Manual
DAA RTS2 Scope Mount
The DAA RTS2 2011 mount is machined from solid aircraft grade aluminum to ensure long lasting durability and precision.
The mount is designed to allow just 2mm of clearance above the top of a flattened 2011 slide, so may be a tight fit if no material has been removed from the top of your slide.
The scope mounting surface includes locating pins which have been machined directly from the solid mount material to ensure precision and a perfect fit to your C-More RTS2 scope.
A compact yet functional blast shield is incorporated in the mount, to help deflect muzzle blast way from the lens of your sight.
A serrated, wide thumb paddle is included, and several mounting holes are available to allow you to position the thumb rest to best suite your preference. More than 20 height and angle combinations are possible. The thumb rest is attached using a steel pin and an M3 socket screw (included).
Or, should you not with to use a thumb rest you can certainly leave it off the mount.
The mount is designed so the scope is aligned with the center of your slide and as low down to the slide as possible. It is designed to allow a forward-positioned Slide-Racker (as supplied with the STI DVC Open guns) to fit with the mount in place, allowing the Racker to be used on the left side of the gun too, as most right-handed shooters prefer.
The mounting hole pattern is the Standard C-More pattern, with a 4th hole added between the forward and middle holes.
Due to the wide variety of mounting screws and threads in use – mounting screws are not included with this mount. Use screws that fit the threads your frame already has, or as recommended by your Gunsmith when drilling and tapping your frame. We recommend the use of M4 Torx screws.
The height of the mount, from the center of the mounting holes to the underside of the scope platform is 29.8mm.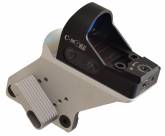 Combo: C-More RTS2 and DAA RTS2 Scope Mount
Alan Quinn
Date Added: Friday 02 November, 2018
I went from a sideways CMore railway to the RTS2 and could not be happier. The DAA mount needed to be modified to go on my (rounded top) 2011 but that was short work and I knew from reading other review it was necessary. The dot is easy to pick up and only took a little dry fire practice to cement it into muscle memory. Transiting from one target to target (especially right to left) is much easier as the More railway was always in the way. Since the RST2 is centered my peripheral vision is wide open on either side. Turning on/adjusting the dot is very easy as all you need to do is push either of the up/down buttons on the side. So far battery life is much better than my railway which is a great bonus. All in all I'm very happy with the RST2.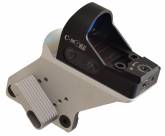 Combo: C-More RTS2 and DAA RTS2 Scope Mount
Jan Bjorkhaug
Date Added: Wednesday 08 August, 2018
This is a great upgrade from our previous C-More scope that came with STI DVC Open. Closer to the slide, better balanced gun, and no problem with cases being thrown back into the ejection port which we experienced with the original sight.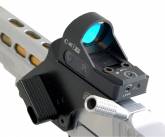 DAA C-More RTS2 2011 Scope Mount
Martin
Date Added: Friday 13 April, 2018
Does not fit round slide, it must be flat top slide. but mount can be easily modified. So dont try if you have round slide and dont want to work with. Thumb rest is not good for me, it is too far. Aiming with this mount is really good, especially for someone who switch guns from sights to dot. Overall i like it and would recommend to others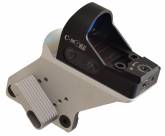 Combo: C-More RTS2 and DAA RTS2 Scope Mount
DENIS ALTUNA
Date Added: Wednesday 28 February, 2018
A perfect combo. Like always, DAA products are high quality. Made by shooter for shooters Denis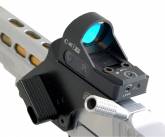 DAA C-More RTS2 2011 Scope Mount
Petteri Piepponen
Date Added: Tuesday 23 January, 2018
This is a great improvement and replacement for the standard STI C-More mount. With the RTS2, the dot becomes about half of the lens lower, making aiming and finding of the dot much more easier and quicker, especially using strong/weak hand only. Moreover, it is much more compact leaving the ejection port completely uncovered. Black colored version looks great on top of black gun. As compared to the STI mount, the attaching screws have to be shorten about two of millimetres, be sure that there will be absolutely no protrusion of the screws through the frame, otherwise the fore end of the slide will be scratched.
Combo: C-More RTS2 and DAA RTS2 Scope Mount
Alpha Dynamics USA
2908 Betz Court, Orefield, PA 18069

Phone: (888) 628-3233 or (610) 366-9752
Fax: (610) 366-9680
E-mail: sales@doublealpha.biz