Prices shown in USD | All items shipped from PA, USA
Arredondo Magazine Brush
Arredondo Magazine Brush
Reviews:
(Current Reviews:

6

)
The only brush designed with your magazine in mind. Once you own one of these brushes, you will never clean you magazines any other way. One tool to dismantle most magazines and clean them. Making the cleaning easier - which means you will do so more often. And that means you will suffer less malfunctions. Few things are more important to gun reliability than keeping your mags clean!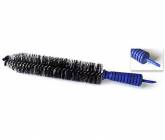 TOM ROBSON
Date Added: Thursday 10 November, 2016
A GREAT QUALITY BRUSH A MUST HAVE IF YOUR DOING ANY TYPE OF OUTDOOR RANGE WORK CLEANS MAGS WITH EASE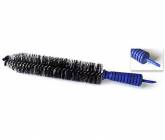 Mark Schirmer
Date Added: Tuesday 17 March, 2015
This brush is a must have if your firing outside in the Dirt. Cleans mags very good, I have one, another must have for your gun.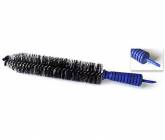 .45 Medic
Date Added: Monday 11 August, 2014
Na een teleurstellende wedstrijd te wijten aan gebrek aan onderhoud was het duidelijk dat ik dit nodig heb icm 45 handloads. Het is een ontzettend makkelijke borstel om tijdens de wedstrijd je magazijnen schoon te maken. Since a disappointing match wich was effected by my lack of maintenance it was clear I have to use it with .45 handloads. Good for some quick cleaning during a match.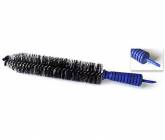 Tina De Suza
Date Added: Tuesday 20 November, 2012
These are awesome brushes! You can't shoot outdoors in the dust and mud without having one of these in your range bag. Perfect for the job!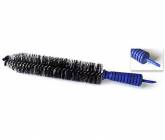 Jostein
Date Added: Monday 01 November, 2010
Large and nice size, good quality. I thought before that it would do with simple houshold brush or rag. But this is way better, and will always be a part of my rangebag.
Arredondo Magazine Brush
Alpha Dynamics USA
2908 Betz Court, Orefield, PA 18069

Phone: (888) 628-3233 or (610) 366-9752
Fax: (610) 366-9680
E-mail: sales@doublealpha.biz