Brian Enos's SLIDE-GLIDE
Brian Enos's SLIDE-GLIDE
Reviews:
(Current Reviews:

12

)
Slide-Glide is specially formulated using the highest-grade extreme pressure compound available. It is engineered to have a stringy characteristic that prevents "tracking" or shearing on sliding metal surfaces. It "stays put" by dragging itself back into the friction areas of the cycling slide and barrel. This ability to stay put is far superior to conventional greases such as lithium, or lithium-based metallic greases containing molybdenum or graphite.

Further, Slide-Glide's quality of staying put fills gaps between moving parts in the top end, effectively softening the felt recoil. This is especially noticeable on Stock firearms, and also works great on "loose" Open guns.

Most unburned powder residues that may become visible in the grease are actually lubricating in nature (graphite), and will not adversely affect the performance of the grease.

Which one to choose:
For Open guns - choose the "Lite"
For Standard guns - choose "#1"

2 Oz tubs.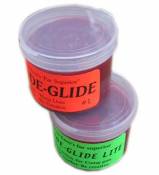 R.AMIR
Date Added: Wednesday 01 November, 2017
One of the best lubricant I know. Very resilient, once applied it's here to stay. A true time-saver when it comes to cleaning: wipe it, and it's shining again. I use it on slides and barrel lugs.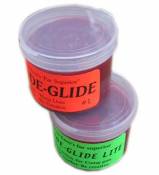 Jansen
Date Added: Tuesday 20 December, 2016
Very good product in combination with the FP10 oil for open pistol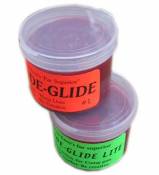 Paul
Date Added: Sunday 18 December, 2016
Easy to apply and lasts much longer than oil. Use it on my race gun STI GM. Easy to clean also.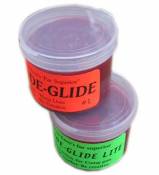 Oleg Rudenko
Date Added: Friday 01 January, 2016
The best grease around. Stays put, even after many years. Ideal if you're not into cleaning your gun every time.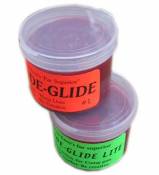 Сергей Петрович Костюрин
Date Added: Tuesday 22 December, 2015
Это лучшая деталь для пистолета! Она реально работает-смягчает отдачу.
Brian Enos's SLIDE-GLIDE
Double-Alpha Academy BV
Elzenweg 33b, 5144MB, Waalwijk
The Netherlands
Phone: +31 (0)416 660 464
Fax: +31 (0)416 392 040
E-mail: daa(at)doublealpha.biz