Arredondo C-More Lens Cover
Arredondo C-More Lens Cover
Reviews:
(Current Reviews:

3

)
The Arredondo C-More lens cover protects your C-More Sight from rain, dirt, dust and against scratches when the pistol is placed in the bag. Easy to clip on and off, this is a great gadget to have handy during practice or at a match. It comes with a belt clip to hang on your shooting rig when not in use.

Available in Black.

Note - the lens cover does not stay on a C-More which is tilted sideways (90 degrees).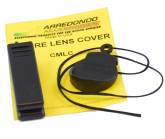 Terry Saunby
Date Added: Sunday 23 September, 2012
This one takes a little bit of thought until you figure out how to put it on. Mine does snap into place quite nicely - C More plastic non click type. The retaining clip and string are a bit underdone.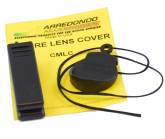 jake
Date Added: Monday 30 April, 2012
This was not what I hopes. The lens cover does NOT snap on the lens and is just kept in place by gravity. When you move it falls of, at least on the 90 degree Quinn II mount I have and I can't see how it would be any different on a normal mount. The idea is great and I cannot understand why they didn't add a feature to keep it on.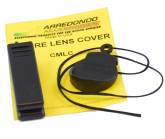 chronist
Date Added: Thursday 15 March, 2012
The C-More lens cover protects only the back of the glass lens. It will be attached with the clamp. However the clamp damaged the edge of the lens of both sides. The front of the lens is not protected. The cover is impractical and useless.
Arredondo C-More Lens Cover
Double-Alpha Academy BV
Elzenweg 33b, 5144MB, Waalwijk
The Netherlands
Phone: +31 (0)416 660 464
Fax: +31 (0)416 392 040
E-mail: daa(at)doublealpha.biz