3M PELTOR Tactical Earplug Kit, TEP-100-EU
3M PELTOR Tactical Earplug Kit, TEP-100-EU
Reviews:
(Current Reviews:

1

)
3M™ Peltor™ TEP-100 Tactical Digital Earplugs help protect hearing while offering improved auditory environmental awareness over conventional hearing protectors by actively adjusting to loud and soft environmental sounds. These rechargeable digital earplugs can help to improve awareness by amplifying lower volume sounds like voices, while limiting hazardous steady state and impulse noise. The TEP-100 tactical earplugs utilize environmental microphones to detect sounds. These sounds can either be amplified to make them easier for the user to hear in quiet environments, or the sounds can be attenuated (reduced) to help protect the user's hearing. When using the TEP-100 tactical earplugs, sounds such as warning signals, or approaching vehicles may be easier to hear than when using conventional hearing protection. When exposed to impulse noise, such as gunfire, the TEP-100 earplugs immediately soften sudden loud noises such as the blast of a gun or rifle, making these earplugs an effective hearing protection solution for hunters and gun range shooters, as well as tactical users such as members of armed forces and police officers.
These earplugs are designed for intermittent noise environments, where the user must sometimes quickly transition from quiet to potentially hazardous noise. Communicating in quiet and maintaining auditory environmental awareness can be challenging when using conventional hearing protection in quiet and low levels of noise. The tactical earplug is designed for applications where awareness is critical and protection from imminent high level and/or impulse noise is required, such as shooting ranges, construction sites, manufacturing plants, auto racing, transportation, and first responder and law enforcement.
Benefits
Rechargeable electronic earplugs help reduce loud noise while amplifying low-level sounds
Optional earplug cord can be attached to earplug for additional security
Intuitive one-button operation turns unit on and off and selects high or normal volume setting
Lithium-Ion battery provides up to 16 hours of continuous operation between charges
Portable charging case powered by 3 AA alkaline batteries or USB (Micro B) port
Choice of replaceable communications eartips designed to fit most ear canal sizes and rated to provide a Noise Reduction Rating (NRR) of 23 or 30 decibels (depending on eartip type)
Tactical earplugs and portable charging station (with cover and USB ports closed) are IP67 compliant and water resistant (immersion of up to 1 meter for 30 minutes)
Innovative microphone port design helps protect eartips against water ingress
Portable charging station helps protect earplugs in wet and austere environments
Compatible with most headborne Personal Protective Equipment such as helmets, hardhats, eyewear and faceshields
3M™ Peltor™ TEP-100 Tactical Earplugs help to increase environmental awareness by offering the user:
Communication
Sound level-dependent technology helps to provide hearing protection against intermittent loud noise and helps improve communication in quiet by switching instantly between amplifying low sounds and blocking loud noise, eliminating the need to manually switch between modes or change gear
Compatibility
Tactical earplugs are compatible with most head-borne Personal Protective Equipment (PPE) such as helmets, hardhats, bump caps, eyewear, faceshields, and welding hoods
Comfort
The small and lightweight design helps improve overall comfort and user experience and is a comfortable alternative to earcup protection.
At a weight of just .13 oz each, these in-ear digital units offer a lightweight, comfortable, protective communication solution designed for environments where heat and/or compatible equipment are an issue. A built-in, intuitive single button operation allow users to turn unit on and off and select a high or normal volume setting without removing unit from the ear. The rechargeable lithium ion battery provides up to 16 hours of continuous operation between charges. The portable, water resistant (IP67 compliant) charging station can be powered by 3 AA alkaline batteries or a USB (Micro B) cable port. Steel clips secure the earplugs in the case and ensure contact for charging, while cord storage posts keep the optional lanyard cord tangle free.
A choice of replaceable communications eartips help to fit TEP-100 earplugs for most ear canal sizes. 3M™ Ultrafit™ Eeartips come in 3 sizes (S,M,L) and provide a Noise Reduction Rating (NRR) of 23 decibels (dB). 3M™ Skull Screws™ Eartips provide a NRR of 30 decibels (dB).
This hearing protection system comes with 2 rechargeable electronic earpieces, 4 pairs of replaceable eartips, a portable waterproof (IP67) charging case, and optional earplug lanyard cord. Exposure to loud noises can adversely affect the ability to hear over time. Wearing proper hearing protection devices can help in reducing the harmful effects of noise. Sounds levels are expressed in decibels, often abbreviated as dB. Higher decibel numbers indicate louder sounds. Typical decibel levels associated with common sounds include: outdoors with no people or traffic 20 dB, normal conversation 60 dB, power lawn mower 90 dB, chain saw 110 dB, and 12-gauge shotgun 165 dB. The hearing protector NRR can be used to evaluate different hearing protection options. However, the actual level of protection varies depending on fit, wearing time and other factors.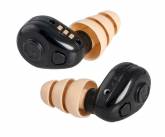 Simon Mak
Date Added: Tuesday 31 May, 2016
Dear sir, Thanks for good CRM system and I do like always the products and service from AA yet not this time and this TEP-100EU ! Trusted you know I had bough 2 units of the system and did return for replacement once because of device malfunction. The new purchae of the 2nd pair did also arrive couple of weeks ago and similar thing happened again, only one earplug is working !!! Had tried recharge and recharge, all difference way of pressing the on/off button, different persons to try..... didn't work ! I decided not to go through all the trouble to bother to return the unit again due to my schedule but just wanted to let you know the device is yet still lots to be desired and improved before they should be marketed, especially at that price range. Thanks for the attention, Kind Regards, Simon Mak
3M PELTOR Tactical Earplug Kit, TEP-100-EU
Double-Alpha Academy BV
Elzenweg 33b, 5144MB, Waalwijk
The Netherlands
Phone: +31 (0)416 660 464
Fax: +31 (0)416 392 040
E-mail: daa(at)doublealpha.biz