Sordin Supreme-Pro X
Sordin Supreme-Pro X
Reviews:
(Current Reviews:

25

)
The Sordin Supreme-Pro X takes the Supreme Pro line to the next level. This model of electronic ear defenders offers all the great features of the Supreme Pro model - AND 2 more special features:
1. It is totally water proof, not just water resistant like the Supreme Pro. In the Pro-X model even the microphones themselves are water proof. You could go swimming with these! (Don't!...)
2. The Pro-X comes backed with a Manufacture's 5 year full warranty (the supreme pro has one year full warranty).

The Supreme Pro is the top-level model available from world leader MSA-SORDIN. It features include:
Provides optimum protection with high amplification, AUX input and watertight battery compartment.
Both earmuffs are shaped to suit both right-handed and left-handed shooters (for comfortable rifle mounting).
Two separate, well-shielded microphones for optimum stereo effect and location of sound direction. (water proof mics in Pro-X model)
Rugged "military spec" construction: One piece molded cups, steel pins connecting the head band, glass fiber reinforced polymer head band and water proof one-piece switch rubber control panel.
High amplification and natural sound reproduction without chopping.
Around 600 hours battery life with two standard AAA batteries.
Power saving auto shut-off feature after 4 hours of no button input.
AUX input for connecting external audio sources, such as an MP3 payer, hunting radios or dog tracker.
Lead with 3.5 mm mono jack plug included.
A comfortable, luxurious leather lining covers the head band.

Weight: 310 g
SNR = 25 dB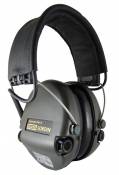 Alexey Solovyov
Date Added: Wednesday 23 August, 2017
Очень удобные, хорошее качество звука, качественно сделаны, защита от дождя. Наушники не из дешевых, но они того стоят.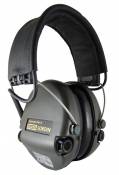 Steve Rosen
Date Added: Wednesday 27 July, 2016
I have used may different brands of electronic hearing protectors over the years and these are simply the best I have ever encountered. Quick order processing and deliver from DAA (as always!).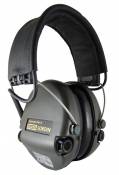 Juan Garcia
Date Added: Thursday 14 April, 2016
worth every penny, get the GEL pads too. Best earmuffs out there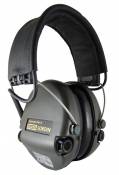 Oscar
Date Added: Thursday 20 August, 2015
Excelente producto, súper cómodo y práctico y de muy buena calidad, totalmente recomendable.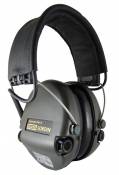 K Ottesen
Date Added: Wednesday 08 July, 2015
Great Product and fast shipping.... Very happy with the Sordin Supreme Pro X... cuts in quickly, attenuates loud noises well and amplifies range commands readily. Microphone is a little sensitive to wind noise, so I often wear these with the microphone facing backwards... works great.
Sordin Supreme-Pro X
Double-Alpha Academy BV
Elzenweg 33b, 5144MB, Waalwijk
The Netherlands
Phone: +31 (0)416 660 464
Fax: +31 (0)416 392 040
E-mail: daa(at)doublealpha.biz