1911 UpLULA Aligning Insert
1911 UpLULA Aligning Insert
Reviews:
(Current Reviews:

1

)
An aligning insert add-on for the UpLULA™ and 22UpLULA™ loaders. It assist loading single-stack magazines by eliminating wiggling of the mag inside the loader. It's an insert to your existing loader, not a new loader. If you are using single-stack magazine whether .45 cal. 1911, 9mm single-stack, or .22LR cal. converted 1911, as examples, we highly recommend that you use our new 1911AI™ Aligner Insert with your UpLULA™ or 22UpLULA™ loaders. With it single-stack magazine will not wiggle inside the wide body of said loaders.

You connect the 1911AI™ Aligner Insert to the ring of the loader and thereafter it can be 'clicked' to the bottom of the loader to narrow it when using single-stack magazines. You can easily release it when loading wide-body mags.

Best for:
- 1911 .45ACP mags (Using the UpLULA™)
- 9mm single-stack mags (Using the UpLULA™)
- Converted .22LR 1911 mags (Using the 22UpLULA™)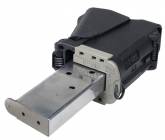 Lawrance Mouat
Date Added: Thursday 02 February, 2017
Works well and is very easy to swap out. Saves a lot of time and thumb pain...
1911 UpLULA Aligning Insert
Double-Alpha Academy BV
Elzenweg 33b, 5144MB, Waalwijk
The Netherlands
Phone: +31 (0)416 660 464
Fax: +31 (0)416 392 040
E-mail: daa(at)doublealpha.biz