Rig Builder
Rig Builder
Reviews:
(Current Reviews:

48

)
This Builder requires one Holster, one Magazine Pouch and a Belt to be activated.
Our "BUILDER" tool is an online "Custom Bundle" creation tool, which allows you to create a bundle of products to benefit from available discounts.
Our Rig Builder is a system designed to allow you to build your perfect shooting Rig, to include the holster, belt, pouches and accessories of your choice, to build the ideal rig for you.

No longer are you restricted to choosing from pre-defined packages to take advantage of the savings offered on rigs. Now you can build the rig you want, selecting practically any color/type/model combination of pouches and accessories to build up your rig.

As you build the rig, the full price of the items chosen is displayed, as well as the discounted price you will be paying.
CRITICAL SAFETY WARNING
Read the following instructions carefully before using this holster or Insert Block:
Never holster a loaded firearm without first engaging its safety.
Check periodically to ensure your safety is functioning correctly.
Never disengage the safety of the firearm until well clear of the holster and the muzzle is pointing down range.
Make sure you are fully familiar with the correct use, and adjustment of your DAA Holster before attempting to use it with a loaded firearm.
Make sure that you have the correct holster/Insert model for your type of firearm.
Do not use a holster that is unsuited to your firearm, as that could result in unreliable retention or release which could lead to a fatal accident.
Never use a trigger shoe or a widened trigger with this holster.
Double check that the retention and release work well, particularly if any modifications have been made to your firearm.
Care must be taken to ensure the gun is placed properly when returned to the holster. It if it is not positioned correctly, it will not be held securely and may fall out.
Never holster the gun quickly or with force, as that increases the chance of making contact with the trigger.
Any adjustment or modification to the holster design may render it unsafe or cause malfunction.
Take care that the firearm is not dislodged or knocked when holstered, particularly when the holster's safety lever is unlocked. As this holster has no muzzle support, take care that the muzzle of the gun is not bumped upwards, as this may dislodge the gun from the holster
Keep your fingers well clear of the trigger when holstering and drawing the firearm.
The holster should be locked when running or jumping with a holstered gun, or you should keep your hand on the gun's grip to prevent it accidentally falling.
Handling a loaded firearm, and drawing it from a holster is inherently dangerous. You do so entirely at your own risk and responsibility.
Liability is limited only to the replacement of this holster or parts thereof. No additional warranties are expressed or implied by the manufacturer or the distributors.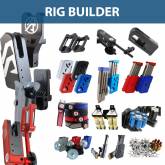 Trevor L
Date Added: Friday 08 December, 2017
Great tool that allows you to make your selections without forgetting anything. That said, I was disappointed with the quality of the fasteners on both the Alpha X holster and the Race Master mag pouches. Two of the latter came with already stripped hex screws that I had to ruin to get out. I'll be replacing all of it with better quality hardware immediately.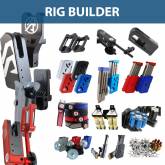 Marcelo Falco
Date Added: Tuesday 05 December, 2017
The perfect buying experience. This is what I got since I decided to buy products from DAA Store. The products talks for itself. High end tech, top quality, excellent costumer service, kind and extremely helpful people. I am very happy to choose DAA Store to build up my IPSC/IDSC Rig.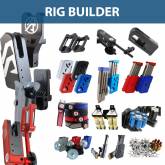 Harald Krause
Date Added: Sunday 26 November, 2017
The rig builder is a nice deal I'd recommend to any newcomer. I got the DAA Premium belt, Bladetech DOH and H&S mag pouches. The belt is nice and stiff, would recommend. However, it's also a bit thick so fitting equipment on there is quite a chore. The holster itself is nicely made, just the right amount of retention. Not a whole lot of adjustability but I didn't expect much so that's fine by me. However the insert for belt width adjustment comes loose and that will make the holster wiggle after it falls to the floor. Mag pouches are really hard to fit on the belt but for the price they are okay. All in all I went with the value choices and value I got. I could have spend twice as much but I don't feel ill-equipped.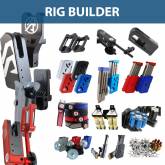 Edwin Andrada
Date Added: Thursday 23 November, 2017
I recently purchased a rig builder and very happy with the quality of products, not to mention I look better at the range. Thanks double alpha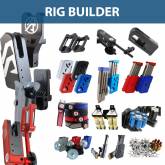 Ty Nakanishi
Date Added: Wednesday 01 November, 2017
Love the belt and magnetic holster. Five stars for durability, performance, and a big thanks to the service team for the great customer service provided. Much appreciated. -Ty
Rig Builder
Double-Alpha Academy BV
Elzenweg 33b, 5144MB, Waalwijk
The Netherlands
Phone: +31 (0)416 660 464
Fax: +31 (0)416 392 040
E-mail: daa(at)doublealpha.biz