Combo: Hoppner & Schumann Speedmag 5CW 3-Pack
Combo: Hoppner & Schumann Speedmag 5CW 3-Pack
Reviews:
(Current Reviews:

14

)
Save Big Time!

Fast, reliable and affordable. The Speedmag 5CW from H&S offers great value and excellent performance.

Constructed completely from formed Kydex, this tough and durable mag pouch is practically indestructible! 2 tension adjustment screws allow for a per-fect fit, and release control. Angle adjustment is possible. Specify gun type when ordering.
NOTE: these pouches won't fot the DAA Belts!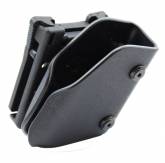 Hoppner & Schumann Speedmag 5CW
Daniel F
Date Added: Sunday 27 November, 2016
Great product and great price. Adjustable cant and easy to get a good grip on the mag. My 9mm Tanfoglio small frame magazines were initially too small for the pouch and the could rock forward/backwards. However, the material of the pouch is kydex so it is easy to heat and reshape. I simply used a hair dryer on the pouch with an unloaded magazine inserted, then molded the front of the pouch to the shape of the magazine I wanted to use. Quick, easy and the result was a perfect fit. :)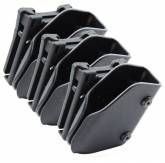 Combo: Hoppner & Schumann Speedmag 5CW 3-Pack
Jim Theo
Date Added: Sunday 27 December, 2015
Nicely constructed. Easy to mount on the belt (although no instructions or pictograms to show a newbe how the lock works). Solid mount and easy to set whatever cant you need. Roller bearings on the back to facilitated a smooth draw However, when using a Sig p226 9mm mag, there is forward space that allows the mag to "rock" with no way to fill it as these pouches are generic in size Probably fits a .40 better. Still, retention is setable and quite good. I could get use to the forward gap. All in all I am happy with this item.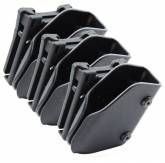 Combo: Hoppner & Schumann Speedmag 5CW 3-Pack
Kay Hartkamp
Date Added: Sunday 29 March, 2015
Great buy! Excellent value for the money! The pouches can be tilted for both limited and production use and the tension is very adjustable. The belt attachment is extremely study and supports even large 2" belt, I have combined these with a completion belt and the rig is extremely study, adjustable and most of all reliable! Would buy again!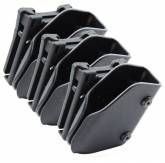 Combo: Hoppner & Schumann Speedmag 5CW 3-Pack
WS
Date Added: Saturday 18 October, 2014
I agree entirely with all the previous positive comments. The mag holders were dispatched very quickly and arrived in exellent order, having been well packaged. They are a joy to use, and fit my CZ75 mags perfectly. The amount of adjustment is truly phenomenal, bot for the holdrs themselves and also for the belt attachment.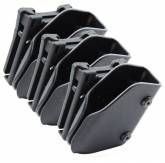 Combo: Hoppner & Schumann Speedmag 5CW 3-Pack
David
Date Added: Friday 17 October, 2014
Only bad thing is that you can't turn them around. tested mags glock- 9mm and .45, cz, strike one, steyer, sig, para 14-45 .40, xd-9, cz ts 9mm, hk p-30 9mm, tranfoglio stock 9mm. fits every belt and are tiltable.
Combo: Hoppner & Schumann Speedmag 5CW 3-Pack
Double-Alpha Academy BV
Elzenweg 33b, 5144MB, Waalwijk
The Netherlands
Phone: +31 (0)416 660 464
Fax: +31 (0)416 392 040
E-mail: daa(at)doublealpha.biz