DAA Dry-Fire Target Set (Classic-IPSC)
DAA Dry-Fire Target Set (Classic-IPSC)
Reviews:
(Current Reviews:

12

)
Dry-firing is one of the most effective methods to improve you shooting skills.

It is cheap – no ammo is required. It is convenient – you can do it in the comfort of your home (don't let the neighbors see you…). And it is an excellent way to build subconscious skills without the distractions creates by target feedback – good or bad hits.

But in order to make your dry-fire practice as productive as possible, it needs to be as realistic as possible. You need to use YOUR gear, your holster and gun, and you need to make sure that you do GOOD practice only. Which means pulling the trigger only when the sight picture is correct!

Dry-firing without a sight picture is worse than no practice at all – as it does not teach you the critical subconscious skill of breaking the shot ONLY when, and if, the sight picture is correct.

For this reason it is so important to train with suitable targets to aim at. And since we usually dry fire indoors, in a small space, miniature targets are required so that we can simulate greater distances and achieve a realistic sight picture as we aim and break the shot.

This DAA Dry-Fire Target Set consists of 20(!) precisely scaled down IPSC Classic targets. When placed on a wall at a distance of 2.5-3 meters, they will serve to simulate targets at distances of 15, 20 and 30 meters.

These Dry-Fire targets are laser cut and etched from 3mm thick wooden plates, which offer a perfect color match to cardboard, while being firmer and longer lasting.

The largest of the targets are 32% of full size, and are approx. 18.5 cm tall.

The medium size are 20% of a full size, and are approx. 11.5 cm tall The smaller targets are 12% of full size and are approx. 6.8 cm tall Three small 17 cm tall popper targets and partial targets are included as well.

Targets include small holes for convenient hanging.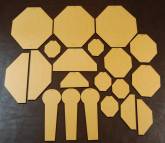 Stéphan
Date Added: Thursday 07 March, 2019
Cibles parfaites pour un entrainement en intérieur.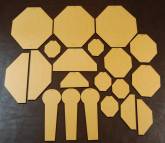 Vivi-Anne
Date Added: Tuesday 25 December, 2018
Makes the Dri-Fiering praktice to a new dimention.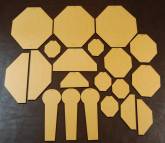 Rory Grubb
Date Added: Wednesday 06 June, 2018
These are great. perfect for dry firing, especially if space is an issue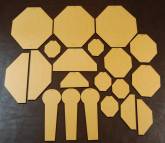 Ann S
Date Added: Monday 18 September, 2017
Absolutely fantastic! Easy to use and most of all, do exactly what they should - train your eyes for quick target acquisition and sighting practice, at various target distances, creating the most realistic dry firing training target layout in any space! Great job Double Alpha on yet another high quality, well designed and entirely useful product!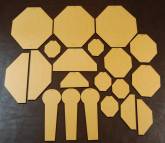 Jean-Luc
Date Added: Wednesday 30 August, 2017
Perfect. To get 5 stars
DAA Dry-Fire Target Set (Classic-IPSC)
Double-Alpha Academy BV
Elzenweg 33b, 5144MB, Waalwijk
The Netherlands
Phone: +31 (0)416 660 464
Fax: +31 (0)416 392 040
E-mail: daa(at)doublealpha.biz