CR-Speed Holster WSM-II
CR-Speed Holster WSM-II
Reviews:
(Current Reviews:

7

)
Superior Retention & Lightning Fast Draws make this holster a good choice. Supplied with the Versa-Hanger for Maximum adjustment Up-Down and angle on 3 Planes. Adjustable trigger slot width, along with a slicker design to allow the Shooter to index the gun Better.

Fits most Autos Incl. STI, 1911, CZ etc.
Open Division, Limited & Modified One holster
L/H or R/H

if you want this holster for LH, add a comment to your order. We will modify the holster and set it up for you for LH, as per the instructions from RHT. Note that this does mean that the locking level will be on the inside, not the outside of the holster body!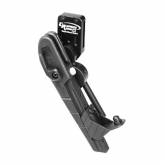 Roger Ramey
Date Added: Thursday 22 October, 2015
33 plus year USPSA shooter moving to open at last. Looking at other holsters and talking to other shooters I went with CR-Speed. So far only a few trips to the range for basic workouts but I love it. Price point and quality are outstanding and service from Double Alpha is Top Shot.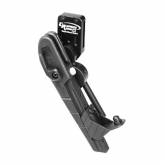 Sjoerd Minheere
Date Added: Saturday 28 March, 2015
I use this holster several years for my CZ Shadow SP-01 with no problems at all!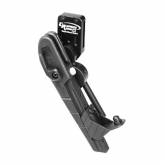 Nenad
Date Added: Saturday 28 March, 2015
Great holster! Draw time o,56-0,9 sec. Small plate on 30 meter 1,30 sec.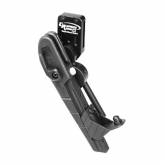 Evgeny
Date Added: Sunday 24 June, 2012
Nice holster! Quality materials and easy adjustments. Match a wide range of pistols. For Jericho (941), FN and most of 1911 can be used as is, with mimimum adjustment require. Outstanding Saul and AA team support, and advice, is always highly recommended, and much appreciated.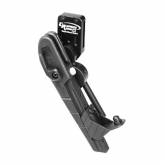 Ray Di Mascio
Date Added: Saturday 28 May, 2011
Nice holster. Comes with lots of bits and pieces that are not described in the instructions, so I have no idea what they're for ! Safety lever could do with a stop to keep it in the "Safe" position.
CR-Speed Holster WSM-II
Double-Alpha Academy BV
Elzenweg 33b, 5144MB, Waalwijk
The Netherlands
Phone: +31 (0)416 660 464
Fax: +31 (0)416 392 040
E-mail: daa(at)doublealpha.biz