Combo: RangePack Pro and RangeCart Pro
Combo: RangePack Pro and RangeCart Pro
Reviews:
(Current Reviews:

55

)
Save over 5% when ordering your RangePack Pro together with a RangeCart Pro trolly.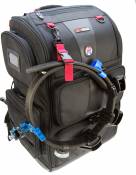 RangePack Pro - IPSC Backpack
Vinicius Luz ED43490
Date Added: Tuesday 13 November, 2018
very good quality , best backpack ever i see. i recommend this bag for IPSC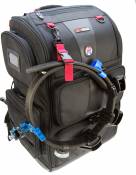 RangePack Pro - IPSC Backpack
Alan Quinn
Date Added: Friday 02 November, 2018
This is a great back pack and can easily hold all I need for a typical day at the range. I really like the lower hard walled area and I use two fishing tackle Plano cases to store my ammo and another with tools/cleaning supplies, odd and ends. The main upper storage area is huge and can easily fit my open gun in a soft pouch as well as all my mags, head set, mag brush, extra long sleeve sport shirt etc. The outside pockets have all the other items like stapler, extra staples, targets dots, gun oil, lube, etc. There is also a top/front pocket for paperwork, pens, etc. All in all I'm very happy with it.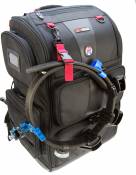 RangePack Pro - IPSC Backpack
Richard Mrkusich
Date Added: Friday 27 July, 2018
The overall design is a very good idea - but the quality is lacking in areas. In particular, the zips are crap. Mine lasted 2 years, then the zips all started breaking (teeth breaking mainly, on the corners of the bottom and top compartment). The zips on the Professional series of bags are much more robust. Overall, a very expensive purchase to only have last two years.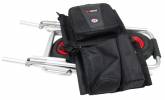 CED/DAA RangeCart Pro
Gérard A.
Date Added: Thursday 21 June, 2018
Excellent matériel, really great and well adapted to the different Range Bags provided by DAA. I cannot imagine not using it anymore. Friends of mine are owning this cart since years and are very happy with, it is very sturdy and handy, excepet for the inner tubes of the tyre, 2x/year =_ flat tyres, wheels should be "plain".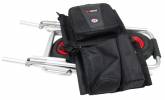 CED/DAA RangeCart Pro
Dave C
Date Added: Wednesday 25 April, 2018
Wow, this range bag exceeded expectations. This company delivers a great product that will truly last a lifetime. They have thought of everything! Well done.
Combo: RangePack Pro and RangeCart Pro
Double-Alpha Academy BV
Elzenweg 33b, 5144MB, Waalwijk
The Netherlands
Phone: +31 (0)416 660 464
Fax: +31 (0)416 392 040
E-mail: daa(at)doublealpha.biz