CED XL-Professional Range Bag
CED XL-Professional Range Bag
Reviews:
(Current Reviews:

24

)
Simply the "biggest badest" range bag available today! The very last range bag you will ever have to buy.

Absolutely the ideal range bag for the "serious IPSC shooter". This bag will enable you to easily carry 2, 3 or more guns, as well as your rig, and all additional gear. In one rugged and comfortable to carry range bag.

Features:
22" long, 14" wide, 11" tall
Inner lift out bag
Padded shoulder strap
Rubber feet keep bag dry
Bottle holder, water bottle included
Brass bag, included
Heavy duty construction
8 magazine pouches
Chromed metal hardware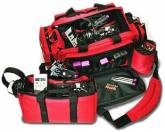 John Campbell
Date Added: Saturday 14 April, 2018
Excellent bag, been using for several years now. We typically have 4 or more full sized handguns, each in a padded sleeve, 15 or 20 loaded double stack mags (most in individual pockets. I never counted how many mags have their own slot, but I think it's around 14 or 15.), 2 hearing protectors (the big powered ones), a small pair of binoculars, 2 or 3 mag loaders, a few tools, towels, 2 bottles of water, 6 boxes of 50 rounds X .40 and/or .45, a couple of cell phones, and other junk I don't really need. The only issue I have with this bag is that I tend to overload (as you see), and the bag weighs so much, I can hardly handle it. I cannot imagine needing more room. You may want to consider one size down. If you get this XL, you'll probably overload it like I do. The bag will be fine, but your back may suffer.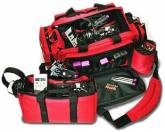 Décio Cristiano Piato
Date Added: Tuesday 12 July, 2016
Ótimo Produto. Acabamento impecável. Ótimo atendimento da DAA - Profissional, atencioso e rápido. Recomendo sempre para meus amigos.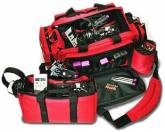 Les Pearson (England)
Date Added: Sunday 27 December, 2015
This is a first class bag. I bought the red one for my wife. She likes it so it must be good. Very well made and plenty of room for everything you are likely to need at the range. The service was equally good. I received my goods very quickly following my order. I would certainly order from Alpha Academy again.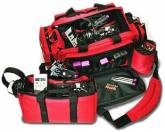 Raymond Valk
Date Added: Sunday 29 March, 2015
Very nice bag! Enough space for everything and really rugged and high quality!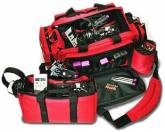 Dovil Catherine
Date Added: Monday 03 November, 2014
Magnifique et pratique sac de stand, de très bonne qualité. Et en bleu il est super.
CED XL-Professional Range Bag
Double-Alpha Academy BV
Elzenweg 33b, 5144MB, Waalwijk
The Netherlands
Phone: +31 (0)416 660 464
Fax: +31 (0)416 392 040
E-mail: daa(at)doublealpha.biz