Prices shown in USD | All items shipped from PA, USA
Race Master Holster - Complete Spare Screw Set
Race Master Holster - Complete Spare Screw Set
Reviews:
(Current Reviews:

6

)
The screws are all top quality stainless-steel screws and so should not require replacement too often, but, it can be reassuring to have spare screws in your range bag. This is a complete set of all the screws used in the RM holster, packed in a bag and ready for use.

The set includes:
4 x M4 round cap crews for the belt hanger plates
1 x M6 round cap screw, centrer pivot screw
1 x M5 screw for the ball joint assembly
2 x M4 counter sunk screws, for the insert assembly
2 x M5 point set screws for locking the ball joint
1 x M5 set screw for tightening the holster body to the rod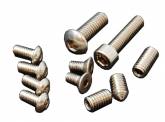 Dirk Schippmann
Date Added: Sunday 25 October, 2015
Great spare part set, better quality then the original screws!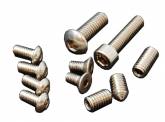 Alan Matthews
Date Added: Wednesday 15 July, 2015
I added the Magnet to lock the gun in the holster along with a new DAA screw kit, if you have the orgial non magnetic holster you must get the magnet set up. I have run the same RaceMaster Holster since they first became avalible in the US and the holster is still holding strong. Great holster by far... Thanks. Love those LEFTY products...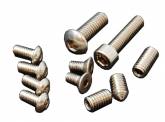 Bluemax
Date Added: Tuesday 21 January, 2014
Das Schraubenset ist gut! Ersetzt perfekt ausgenudelte Schrauben. Für alle Nutzer des Race-Master Holsters absolut empfelenswert. Die Qualität der Schrauben ist deutlich besser als die der originalen Schrauben!!!! Warum können solche Schrauben nicht gleich dabei sein?????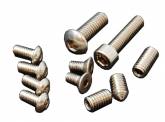 Mike Gottlieb
Date Added: Sunday 01 July, 2012
Glad to have a spare screw set around rather than have to hunt for them when I eventually lose one.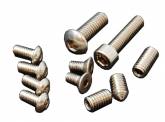 Kjell Holestol
Date Added: Sunday 12 February, 2012
In the screw pack I expecetd see an "External Activation Lever", since this screw is really exposed, not very thight and could fall off. I had a discussion with Saul on this subject. I also did not manage to dislodge the old safety lever. Acording to Saul I did not use the right procedure/equipmen.
Race Master Holster - Complete Spare Screw Set
Alpha Dynamics USA
2908 Betz Court, Orefield, PA 18069

Phone: (888) 628-3233 or (610) 366-9752
Fax: (610) 366-9680
E-mail: sales@doublealpha.biz