Prices shown in USD | All items shipped from PA, USA
Race Master Holster - Slim Safety Lever
Race Master Holster - Slim Safety Lever
Reviews:
(Current Reviews:

1

)
A few shooters have found that the serrated safety lever interferes with their draw of the gun. In response to their request, we are pleased to offer a replacement safety lever, which has been machined down to a slimmer, smooth profile.

To replace the safety, do the following:
1. Remove the insert block assembly from your holster.
2. Using a pointed tool, push the safety pin from the inside out, until you can grip the head of the pin with a pliers. pull the pin out and remove the original safety (Don't worry about the spring loaded ball - it cannot fall out from the safety's side).
3. Insert the new safety and replace the pin.
4. Test the safety is functioning as it should, and reassemble your holster.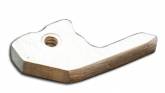 Claus Stahnke
Date Added: Tuesday 26 June, 2012
Same as the standard lever, but with grooves filed off smoothly. If you can do this yourself, you don't need it.
Race Master Holster - Slim Safety Lever
Alpha Dynamics USA
2908 Betz Court, Orefield, PA 18069

Phone: (888) 628-3233 or (610) 366-9752
Fax: (610) 366-9680
E-mail: sales@doublealpha.biz