Prices shown in USD | All items shipped from PA, USA
Mr.Bulletfeeder Dropper set of steel ball bearings
Mr.Bulletfeeder Dropper set of steel ball bearings
Reviews:
(Current Reviews:

6

)
A replacement set of three steel ball bearings for your bullet dropper die. You need to select the correct size for your caliber:

- 5.56/.223: 6mm ball bearings
- 7.62/.308: 5mm ball bearings
- 9mm/38: 4.5mm ball bearings
- 10mm/0.40: 4.0mm ball bearings
- 0.45: 3.5mm ball bearings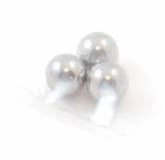 Douglas J Low
Date Added: Friday 28 September, 2018
The products I ordered came exactly as they said they would. I would order again..... BUT-- I was able to speak with their service tech person and he was able to inform me how to fine tune their collator and it REALLY helped eliminate some of the feeding issues of my projos!!! Now I have some back up parts-- which are always good to have--- but my problems weren't the parts I ordered it was the placement of my bullet feeder and angle of the spring feed tube!! The company is VERY HELPFUL and willing to help!! 5 stars in my opinion!!!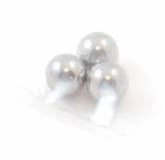 beagles
Date Added: Tuesday 15 May, 2018
Item packaging on web site is not stated. I needed 6 balls, got 18. Paid 3 times what was necessary. Double-Alpha reply - you do not seem to have purchased the product directly from us. Our website clearly states that this is a set of 3 ball bearing replacement. \"A replacement set of three steel ball bearings for your bullet dropper die.\"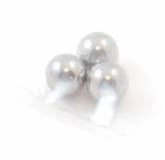 Fabrice66
Date Added: Sunday 04 March, 2018
Je ne sais pas si ces pièces peuvent casser dans l'outil mais au cas où il vaut mieux en avoir en plus vu le prix.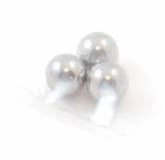 Kurt Steinkleibl
Date Added: Wednesday 29 March, 2017
Ersatzteil ( Kugeln für Mr.Bulletfeeder )schnell geliefert Preis.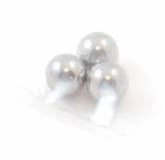 Guillaume BEAUDOIN
Date Added: Tuesday 24 January, 2017
Que dire? Indispensable en cas de perte à toujours avoir dans un tiroir.
Mr.Bulletfeeder Dropper set of steel ball bearings
Alpha Dynamics USA
2908 Betz Court, Orefield, PA 18069

Phone: (888) 628-3233 or (610) 366-9752
Fax: (610) 366-9680
E-mail: sales@doublealpha.biz