Prices shown in USD | All items shipped from PA, USA
PDR PRO-II Belt Ride Ambidextrous Hanger Kit
PDR PRO-II Belt Ride Ambidextrous Hanger Kit
Reviews:
(Current Reviews:

2

)
The PDR-PRO-II Belt Ride Ambidextrous Hanger Kit includes all you need to use your DAA PDR PRO-II holster body with this hanger kit, turning the holster into an IDPA compatible holster.
This hanger positions the holster body up close against the body and provides you a solid, yet tilt adjustable holster mount. It can be used with 1.5-2" wide belts and is fully ambidextrous, working equally well for RH or LH holsters.
In order to assemble the PDR-PRO-II Belt Ride Ambidextrous Hanger Kit to your PDR PRO-II holster follow these steps:
Remove your PDR PRO-II hanger, by unlocking the screw in the ball joint and sliding it down, off the rail.
Remove the rail. Keep the small flat screws safety with the rail.
Place two washers over each screw nut, then the hanger, and finally the short screws. Adjust the required tilt angle and tighten.
If you are using the belt spacers (most will, as most use a 1.5" belt) you can choose to have those spacers both above, below, or one above and one below the belt as you thread it through. This will provide you some height adjustment.
If you need to remove a belt spacer, rotate it 90deg and then slide it out. A little force is required.
If you plan to use your holster in an IDPA match, you will want to replace the tension adjustment thumb-screw with the Philipps-head screw, including in this kit.
Please note: This PDR-PRO-II Belt Ride Ambidextrous Hanger Kit can only be used with PDR PRO-II holster bodies (Not the older PDR PRO). The newer PDR PRO-II body is the one that has an aluminum rail running up its inner side, which is attached with only 2 mounting points. (not the older plastic T-rail which had 3 mounting points).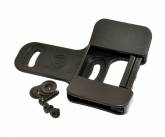 Marcelo Falco
Date Added: Tuesday 05 December, 2017
The perfect buying experience. This is what I got since I decided to buy products from DAA Store. The products talks for itself. High end tech, top quality, excellent costumer service, kind and extremely helpful people. I am very happy to choose DAA Store to build up my IPSC/IDSC Rig.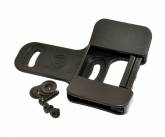 Igor
Date Added: Tuesday 14 February, 2017
Has bought PDR PRO-II Belt Ride Ambidextrous Hanger Kit and I am not sorry. It is made qualitatively and structurally competently. Performs the functions perfectly. Thanks.
PDR PRO-II Belt Ride Ambidextrous Hanger Kit
Alpha Dynamics USA
2908 Betz Court, Orefield, PA 18069

Phone: (888) 628-3233 or (610) 366-9752
Fax: (610) 366-9680
E-mail: sales@doublealpha.biz