Prices shown in USD | All items shipped from PA, USA
Dillon Small Tumbler CV-750
Dillon Small Tumbler CV-750
Reviews:
(Current Reviews:

1

)
When ordered in North America, this product will ship in a 110v configuration. When ordered Internationally – the 220v model will be sent.
Dillon's CV-750 Vibratory Case Cleaner is perfect for reloaders with limited space. CV-750 bowl is 12" across, the unit is 12" tall. Capacity of 500 pieces of 45ACP or 38/357, or about 200 pieces of 30-06 brass. All the electrical/electronic components of Dillon equipment are covered by a one-year warranty from date of purchase. This unit is designed for dry media only. Use of water or wet media will void the warranty.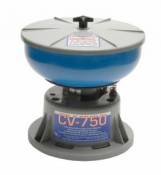 Guillaume BEAUDOIN
Date Added: Sunday 29 January, 2017
J'avais un Tumbler Lyman, j'ai pris celui ci pour pouvoir doubler ma capacité. Au final si je compare, il est plus rapide et donne un meilleur résultat que l'autre, du coup il tourne en priorité.
Dillon Small Tumbler CV-750
Alpha Dynamics USA
2908 Betz Court, Orefield, PA 18069

Phone: (888) 628-3233 or (610) 366-9752
Fax: (610) 366-9680
E-mail: sales@doublealpha.biz