Prices shown in USD | All items shipped from PA, USA
DAA Magnetic 8 shot 9mm Moon-Clip Holder
DAA Magnetic 8 shot 9mm Moon-Clip Holder
Reviews:
(Current Reviews:

3

)
You've been asking – and we are pleased to deliver. Our popular magnetic Moon Clip Holder is now available for the 8 shot 9mm! These are suitable for the moon clips as used in the S&W 929, and can handle both 9mm and longer .38/.357 ammo.

The concept of holding the moon clip magnetically is not a new one, but we have taken it a couple of meaningful steps forward.
Our magnet is custom made, shaped specifically to fit between the rounds on a 8-shot 9mm moon clip, providing increased surface contact area with the steel of moon-clip, for increased grip. The vertical stem is also shaped, countered to match the bullets held in the moon-clip. This serves to index them, forcing them into the same position all the time – improving your consistency as you grab them to reload.

The vertical stem can be tilted to the sides, allowing you to position the moon clip at the angle best suiting your needs. The solid material structure ensures these holders are extremely durable and very unlikely to break, even if you are forced to go prone.
The DAA belt clip hanger, as used on our Racer pouches, provides two height positions, and a secure solid attachment to your 1.5" belt. The very slim steel plates on the back of the belt hanger are of extra value for the revolver shooter, as so many moon clip holders are use side by side. This slim designed ensures your inner and outer belt stay well stuck together.

*The moon clip holders are shipped with a 4mm thick magnet. The retention strength this magnet creates will depend on the type of moon clip you are using, and how magnetic it's steel is. We have found it strong enough for all moon clips we have tried.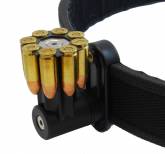 Richard Farmer
Date Added: Wednesday 01 August, 2018
Great product. Works well and nicely designed! Complements the 6 I already utilize.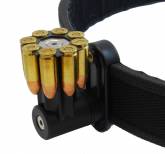 David
Date Added: Wednesday 14 September, 2016
perfect addition to what I already have. They work good. Top product.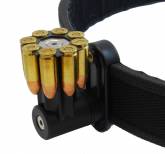 Thomas
Date Added: Saturday 19 December, 2015
I've used the Moon-Clip holder(s) twice now and am completely sold on them. They are Great! They hold the clips securely and provide super easy access when I'm ready for a reload. Highly recommend them to anyone needing this concept.
DAA Magnetic 8 shot 9mm Moon-Clip Holder
Alpha Dynamics USA
2908 Betz Court, Orefield, PA 18069

Phone: (888) 628-3233 or (610) 366-9752
Fax: (610) 366-9680
E-mail: sales@doublealpha.biz