Prices shown in USD | All items shipped from PA, USA
DAA Target Bag, Classic (IPSC) target
DAA Target Bag, Classic (IPSC) target
Reviews:
(Current Reviews:

15

)
This bag is an answer to a problem many shooters are familiar with - targets rolling around all over the car! That, and not having a free hand to carry the targets, along with your range bag, ammo and other necessary gear. If you need to transport your own targets to the range - you will find this new bag a "must have" item!

The DAA target bag is made of strong D6000 textile to ensure many years of service. The main compartment is designed to hold 20 or so full size Classic IPSC targets and zips shut with a good quality zipper. On the outer front size of the bag are three additional customized pockets: The first pocket closes with a Velcro flap and is designed to hold the Speed Patcher Applicator or similar device. The middle pocket, also closes with a Velcro flap and is designed to hold your tacker, and the third larger pocket, with the wrap-around zipper, is a general purpose compartment, in which you can carry rolls of tape, tacks, nails, tools, and anything else you may need on the range to set up your targets.

Also included are two length-adjustable straps, for externally attaching the long metal hooks, used by many shooters on indoor ranges to hang the targets on wires strung the width of the range.

The DAA Target bag is designed to hold everything you need for your targets, for setting them and patching them, in one, organized, practical and easy to carry customized bag. The convenient,adjustable, shoulder strap and padded handle complete this bag, allowing you to keep both hands free to carry your heavier range bag and ammo as you head off to the range for a good practice.

Try the new DAA Target Bag - and you will wonder how you ever managed without one!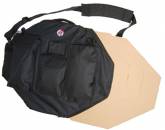 Miguel Frade
Date Added: Monday 21 May, 2018
Great product. I pack everything I need for seting the targets for training.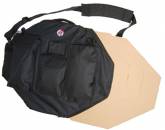 oscarperezleon@gmail.com
Date Added: Tuesday 13 March, 2018
Excelente producto y de buena calidad, muy practico, totalmente recomendable.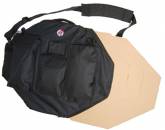 gianni
Date Added: Saturday 09 December, 2017
Ottimo: è il terzo che prendo (per dei colleghi). Non costa molto e oltre alle carte ha tre utili tasche per inserire la cucitrice, i punti e i nastri per tappare.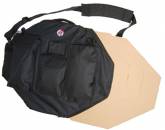 John T.
Date Added: Monday 03 July, 2017
Useful product, frees up space in range bag and also helps you organize so you know you have everything for IPSC shooting. Would give it full marks except as other reviewers commented it could be just a big larger to make sliding in targets easier. I would add maybe even using a wider and stretchable fabric on the edges that the zips are sewed to so that more or fewer targets can use carried snugly but still easier to load into the bag. An additional pocket for timer would be good too.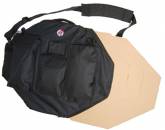 Tom Robb
Date Added: Saturday 26 December, 2015
Had looked at this for some time: it's one of those product-ideas that can seem a little over the top, a luxury almost. Well put that idea away immediately: this is a superb piece of kit. As pointed out in previous review, I too became fed up of targets flying all over the car and falling out of the boot on arrival at range. This bag is so well made, so obviously designed by someone who shoots, and priced so competitively as to make it one of the greatest hidden secrets of shooting. By utilising all the front pouches, this bag has in real terms freed up two main pouches in my pistol bag. There's a lot to be said for "everything in one place". The bag can live in the car comfortably, which means the added benefit of not turning up at the range and finding the staple gun has no staples (how many times have you done that, or with patches too) This is a piece of kit which falls under the banner " how on earth did I get by without one of these until now?" Buy one, you wont be disappointed.
DAA Target Bag, Classic (IPSC) target
Alpha Dynamics USA
2908 Betz Court, Orefield, PA 18069

Phone: (888) 628-3233 or (610) 366-9752
Fax: (610) 366-9680
E-mail: sales@doublealpha.biz