Prices shown in USD | All items shipped from PA, USA
DAA Adjustable Standard Thumb Rest
DAA Adjustable Standard Thumb Rest
Reviews:
(Current Reviews:

31

)
Due to popular demand, we are pleased to now offer our very successful Adjustable Thumb Rest, in a new, narrower configuration, especially designed to fit the box for Standard division shooters. The new paddle width is 11mm (down from 16mm) allowing a standard STI Edge to fit easily into the box with this Thumb Rest attached.

The DAA Adjustable Thumb-Rest allows you to do what no other will – to adjust both the angle and the position of your thumb-rest with just a turn of a screw!

The benefits of mounting a thumb-rest on the pistol are well established, and many top shooters choose to use one on their competition guns. These are legal for both Open and Limited/Standard divisions, as long as the box restrictions are met.

The biggest problem, however, is deciding where exactly to mount the thumb-rest, and what angle will best suite your shooting grip. Once mounted, other thumb-rests are difficult or impossible to reposition, as the screw holes are already drilled into the frame. And why should you be limited to the elevation angle decided on by one manufacture or another? No longer! You can now adjust your thumb-rest as you like, experiment, and readjust as often as needed. Our unique original design allows for unlimited adjustments within a range of about half an inch, and these adjustments can be done without removing the thumb-rest from the frame. You can adjust the paddle even as the base remains locked in place.

The DAA Adjustable Thumb-Rest is available with either a light grey or Black Hard Anodize finish.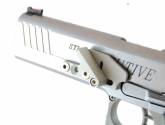 Steven Salerno
Date Added: Wednesday 19 September, 2018
Unfortunately, this product did not work for me. There wasn't enough adjustment to get it close enough for it to be effective. I replaced it with a GASPEDAL; much better grip.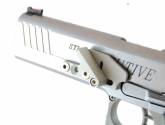 Francis Gouttebessis
Date Added: Tuesday 12 June, 2018
I have mounted the thumb rest on my Standard Tanfoglio Xtrem .40. It perfectly fits, 2 screws (loctite is mandtory). In comparison to the Tanfoglio model it is adjustable and comes very near to the slide stop, so it is better for small hands, you can adjust the angle. Finish is perfect. The thumb rest prevent as well your thumb to slow down the slide. I will order a 2nd one for my backup gun.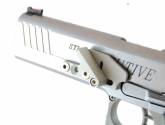 Bob
Date Added: Wednesday 25 April, 2018
I like the rest, still getting used to it, one thing I would like to change would be closer to the resr of the frame. I don't have real large hands so only the small part of my thumb rest on the pad.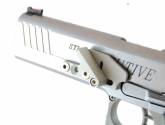 Mark hector
Date Added: Sunday 19 November, 2017
Very nice product, shipping was fast.works very well on my d vc steel.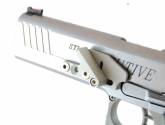 Markus A. Schorr
Date Added: Monday 11 September, 2017
Good product I use with my Tanfoglio Limited Custom .40 S&W. I would even cut out (for the slide release) a bit more to place the thumb rest faster to the rear. Only two out off three screw holes fit and I will most likely cut the superfluous material.
DAA Adjustable Standard Thumb Rest
Alpha Dynamics USA
2908 Betz Court, Orefield, PA 18069

Phone: (888) 628-3233 or (610) 366-9752
Fax: (610) 366-9680
E-mail: sales@doublealpha.biz