Prices shown in USD | All items shipped from PA, USA
CED/DAA 8- Pack Deluxe Zippered Magazine Storage Case
CED/DAA 8- Pack Deluxe Zippered Magazine Storage Case
Reviews:
(Current Reviews:

8

)
The DAA Deluxe Magazine Pack provides safe and protective housing for 8 of your valuable competition magazines. We spend hundreds of Euros on our magazines, and this pouch finally provides a carrying and storing means worthy of their value.

The pouch is large enough to accommodate up to 170 mm long magazines, and its elastic straps adjust to hold any double-stack magazine securely, from the smaller CZ style mags to the larger 2011 magazines used by so many in our sport. Single stack shooters will find that they can insert 2 magazines into each loop, providing place for up to 16 single stack mags.

The DAA Deluxe Magazine Pack is constructed from sturdy, double-layered 600D polyester, with inner foam lining and a striking red interior. A top quality heavy-duty zipper ensures years of reliable service. The convenient steel D-loop provides an attachment point, should you wish to hang the pouch on a larger bag.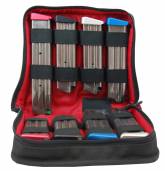 JGOcampo
Date Added: Monday 31 December, 2018
Very useful in organizing my safe. No more clutter. All I need to do is decide which gun I need to use and then grab the appropriate magazines. The label inserts definitely make the contents of the case easy to identify.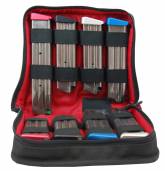 Eric
Date Added: Thursday 26 July, 2018
Great magazine storage case just needs a center divider to keep the mags from rubbing against each other.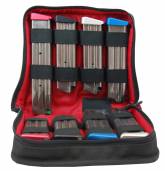 Gianni
Date Added: Saturday 09 December, 2017
Prodotto ottimo è conforme alla descrizione. In realtà non mi serviva in quanto la borsa aveva già predisposto 6 pottacaricatori.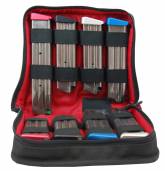 I. V. Cadez
Date Added: Wednesday 17 May, 2017
Very good case to carry magazines to matches. Even though my range bag has loops for magazines, I use separate cases for each gun I might shoot in the competition to avoid having to repack and risk bringing wrong magazines. This case works perfectly and I just ordered another one for my single-stack magazines. There is only one small issue that I'm not sure how I feel about. When the case is closed, magazines are hitting/rubbing against each other. On one hand they are just tools that get dropped a lot in the dirt anyway, but on the other hand the case is there to protect them. I wouldn't mind having a "separator tab" in the middle that would get in between magazines when the case is closed and protect them against each other. I also use the 6-magazine version by DAA and like them a bit better.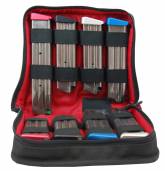 Sergei Vasyukhnik
Date Added: Thursday 14 April, 2016
Не большой, компактный, удобный и приятный кейс, влезают магазины на 26 патронов, что очень удобно для тех, у кого пистолет открытого класса. Материал приятный, цена качество оптимальное. Пока недостатков не обнаружил, хоть и срок эксплуатации не большой.
CED/DAA 8- Pack Deluxe Zippered Magazine Storage Case
Alpha Dynamics USA
2908 Betz Court, Orefield, PA 18069

Phone: (888) 628-3233 or (610) 366-9752
Fax: (610) 366-9680
E-mail: sales@doublealpha.biz