Prices shown in USD | All items shipped from PA, USA
Combo: DAA Premium Belt and an Extra Inner Belt
Combo: DAA Premium Belt and an Extra Inner Belt
Reviews:
(Current Reviews:

63

)
Premium Belt
Introducing the DAA Premium belt. This belt offers the extreme rigidity of the Competition belt, in the higher quality finish and look of the PRO model.
In recent years we have offered two belts: The original DAA Competition belt, and more recently, the DAA PRO belt. The first's best feature is its extreme rigidity, stemming from a slightly thicker and harder core. The latter – boasts improved looks and finish, and includes a handy name-card holder incorporated into the outer belt. Both belts have been received well, and each has their followers. Some choosing the Competition belt if they view rigidity as the most critical feature while others choose the improved appearance and quality feel of the PRO belt. We thought – why force our customers to compromise? Why can't we offer the best of both belts – in one?
Sizes are available for 28"–50".
How to select the correct belt size: (do not select based on your pant size!)
1. Measure you actual waist circumference at the height where you plan to wear your belt.
2. Convert your measurements into Inches (1inch = 2.54cm)
3. Order the belt size which matches your measurement. Round upwards: if you measured 39", order a belt size 40".
For example:
If you measure around your waist 86cm/33.85", you should choose a belt which is about 104-110cm/41"-43.3" Overall length, which would mean a DAA belt size 34". If you measure around your waist 98cm, you should choose a belt which is about 115-123cm/45.25"-48.5" Overall length, which would mean a DAA belt size 36 or 38" (38" would be the safer bet, a little long is always better than a little short).
Size chart:
| | | |
| --- | --- | --- |
| belt size to order (inch) | overall length (cm) | overall length (inch) |
| 32" | 100cm | 39.4" |
| 34" | 105cm | 41.3" |
| 36" | 116cm | 45.7" |
| 38" | 121cm | 47.6" |
| 40" | 126cm | 49.6" |
| 42" | 131cm | 51.6" |
| 44" | 136cm | 53.5" |
| 46" | 141cm | 55.5" |
| 48" | 146cm | 57.5" |
| 50" | 151cm | 59.5" |
| 60" | 176.5cm | 69.5" |
Extra Inner Belt
DAA Premium Belts are sold as a set, including both the outer and inner belts. However, as most shooters know, an extra inner belt is a handy piece of kit. These inner belts are extremely practical for everyday use and perfect for air travel, as they include no metal and no buckle. Sold separately in Black only, in sizes from 28"-50".

Note: The "Double Alpha Academy" font color on the inner belt is silver.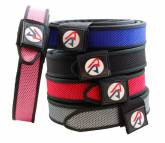 DAA Premium Belt
Jeff Bingham
Date Added: Tuesday 02 April, 2019
I've had many, but this one is far superior than any other belt I've ever used.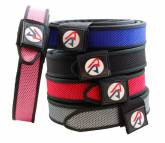 DAA Premium Belt
Graeme Cooper
Date Added: Tuesday 19 March, 2019
As with al DAA kit these belts are simply the best you can get - what more need I say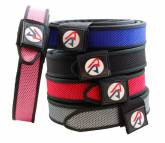 DAA Premium Belt
Mike Sayles
Date Added: Sunday 17 February, 2019
Great belt, best way to secure your gear were you want it and it will stay there. I highly recommend it.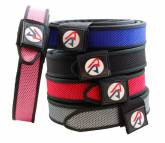 DAA Premium Belt
nix cedric
Date Added: Wednesday 13 February, 2019
vraiment top et super rigide, acheter pour remplacer celle d une autre marque beaucoup trop flexible pour a peine 15 euro de plus ... ne pas hesiter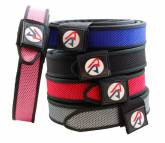 DAA Premium Belt
Adinolfi Antonio
Date Added: Monday 11 February, 2019
This belt is the very best on the market. I bought my first almost 10 years ago, used almost every week and it is still going strong. I bought a second one to use with my box fed shotgun magazines and i'm pleased to say that the quality is as good now as if was then. Highly recommend this belt.
Combo: DAA Premium Belt and an Extra Inner Belt
Alpha Dynamics USA
2908 Betz Court, Orefield, PA 18069

Phone: (888) 628-3233 or (610) 366-9752
Fax: (610) 366-9680
E-mail: sales@doublealpha.biz