Prices shown in USD | All items shipped from PA, USA
Combo: 5x Single Stack Racer Pouch
Combo: 5x Single Stack Racer Pouch
Reviews:
(Current Reviews:

19

)
Enjoy over 5% off of these fantastic Single Stack Racer pouches.

Please note!
These single stack pouches will work only with 1911 style Single stack magazines which follow the standard external dimensions! (roughly 13.7mm 0.54" wide, and 34.8mm 1.37" from back to front)
It has come to our attention that some manufacturers are shortening the front to back length of their tubes for the 9mm calibers – and these will not work in our single stack pouches!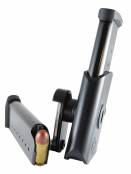 DAA Single Stack Racer Pouch
Mjoy
Date Added: Friday 18 May, 2018
This pouch is amazing! It doesn't take too much space in my belt-- which also mean that I don't need to reach all the way to my back to get my last magazine. It's lightweight and it's very stable. I can run freely without worrying about my mags falling off.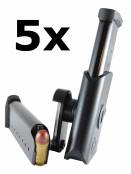 Combo: 5x Single Stack Racer Pouch
Fred Collis
Date Added: Tuesday 10 April, 2018
Clean, simple, functional, reliable, light weight, look good. These are just a few words to describe the pouches.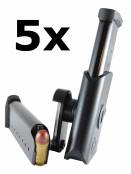 Combo: 5x Single Stack Racer Pouch
Ben Whitmire
Date Added: Friday 26 January, 2018
I Currently have 7 of these on my belt for single stack division. Great fit for my 1911 9mm mags. Easily adjustable and stays put. Mags stay in place on the run but come out with ease during a reload.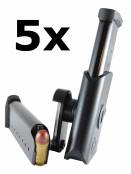 Combo: 5x Single Stack Racer Pouch
Max H
Date Added: Tuesday 02 January, 2018
Smooth release. Tension wrench on the back. Work fine with all kind of single stack .45 acp mags I've tried. Good product ! -- Sortie de chargeur sans accroche. Tension réglable avec une molette. Fonctionne avec tous les chargeurs de .45 (single stack). Très bon produit.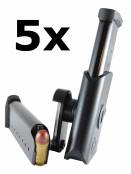 Combo: 5x Single Stack Racer Pouch
Jed simon
Date Added: Sunday 28 May, 2017
Best pouches I've ever used. Incredibly smooth release!
Combo: 5x Single Stack Racer Pouch
Alpha Dynamics USA
2908 Betz Court, Orefield, PA 18069

Phone: (888) 628-3233 or (610) 366-9752
Fax: (610) 366-9680
E-mail: sales@doublealpha.biz