Prices shown in USD | All items shipped from PA, USA
CED/DAA RangePack (medium) - IPSC Shooting Range Bag
CED/DAA RangePack (medium) - IPSC Shooting Range Bag
Reviews:
(Current Reviews:

24

)
In October 2011 at the world shoot in Greece, we introduced our new CED/DAA RangePack Pro, a new generation of custom made backpacks specifically designed for the serious competition shooter. The shooting world took notice, and since then this extra-large backpack has rocketed to the front of our range bag sales. Despite it being our most expensive bag, dedicated shooters were quick to notice that this bag stands head and shoulders above the rest, and that you get real value for your money. The RangePack Pro has become a runaway success!

The one criticism we received from some, was that the bag was too large for their needs or for their physique, and they implored us to offer a smaller version. Well, we listen to our customers, and are pleased to now offer the new CED/DAA RangePack, the smaller brother to the RangePack Pro.

Like the larger version, the RangePack is designed to stand upright on its rubberized waterproof base, allowing easier access to all compartments and pockets while keeping the bag clean and dry. The upper compartment is large enough to allow 2 pistol insert sleeves to stand upright side by side, and will hold most of your gear. It includes a detachable 7-pocket magazine holder and several other side pockets designed to hold various gear, such as ear defenders, Progrip or a mag brush.

The lower compartment is encased in a hard plastic shell, forming the sturdy base for the larger upper compartment and giving the bag much of its structure. The lower compartment can be used to store ammo, cleaning kits and various items. It may be too small for a full size pistol sleeve to lay flat, but it is large enough to hold a pistol in a smaller case.

The CED/DAA RangePack has the same top quality and detailing as the larger RangePack Pro. It is made from black Ballistic nylon with a smart bright inner red lining. It includes a rain cover neatly packed away in a concealed pocket, ready at hand to be pulled out and wrapped around the bag to keep it dry. The shoulder straps and back are densely padded to provide support and comfort, even when carrying the bag fully loaded. An extra pocket in the upper flap is perfect for storing documents and pens , and 5 large external pockets add considerably to the storage space available.

Like the RangePack Pro, the RangePack is designed to fit perfectly on the CED/DAA RangeCart Pro, and includes the steel eyelets for this purpose.

- Weight: 2.5 kg (5.4 lb.) excluding accessories
2.9 kg (6.4 lb.) with all accessories
- Total Dimensions: 46 H x 36 W x 26 D cm
- Bottom Compartment: 12 H x 30 W x 22 D cm
- Top Compartment: 33 H x 30 W x 22 D cm


Accessories included:
- A red zippered Pistol Sleeve
- A red Universal Pouch
- Customized rain cover
- Cable combination lock
- Custom external rig strap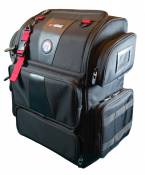 Luiz Augusto
Date Added: Wednesday 20 June, 2018
Excelente mochila, atende às minhas necessidades do tiro esportivo, estou feliz com ela.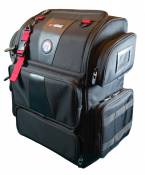 John van Uitert
Date Added: Tuesday 01 May, 2018
Excellent rangeback, using this one for about 2 years now. The medium size keeps me from taking to much to the range. When the zipper failed, the repair service was prompt, many thanks team Double Alpha! John van Uitert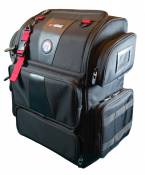 Marc Kerremans
Date Added: Sunday 01 April, 2018
Top product, mijn oude schietkoffer was na 30 jaar aan vervanging toe. Ik had geen betere vervanger kunnen wensen, alles kan mee en goed geordend in deze tas. Een aanrader.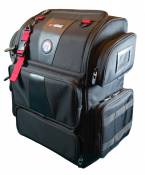 umberto
Date Added: Wednesday 27 December, 2017
la migliore bora che ho acquistato, infatti ne ho prese altre 2 per i miei amici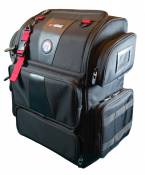 gianni
Date Added: Saturday 09 December, 2017
Ottimno con molti scomparti. Ho dovuto scegliere questo più piccolo per ragioni di spazio in casa.
CED/DAA RangePack (medium) - IPSC Shooting Range Bag
Alpha Dynamics USA
2908 Betz Court, Orefield, PA 18069

Phone: (888) 628-3233 or (610) 366-9752
Fax: (610) 366-9680
E-mail: sales@doublealpha.biz