Prices shown in USD | All items shipped from PA, USA
CED Brass Chute
CED Brass Chute
Reviews:
(Current Reviews:

3

)
The CED Brass Chute is an amazing product, that provides a fast and efficient method of collecting brass on the range. Ideal for clubs or individual training sessions where collecting the brass for reloading or simply keeping the range clean is the goal. Comes with its own carry case and sets up easily in minutes.
Constructed of an aluminum frame with a heavy-duty, weather resistant netting, this unique brass collection system is designed with a gravity fed funnel that drops the brass into a collection container.
Eliminates the need to pick up brass from the ground, or have to sort through various mixed calibers. The CED Brass Chute collects each shooter's brass, funnels it into a container and allows the shooter to retrieve only his brass and all at once.
Color coded corners, locking extension tabs, and an all-in-one frame design, make it an easy task to set up and take down the CED Brass Chute. The perfect companion for individual training, Steel Challenge style matches, or stages where a stationary shooting positions are used.
The net measures 73" wide and 83" deep.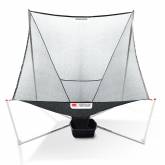 Big Dick
Date Added: Saturday 23 February, 2019
Yes it's expensive and expensive to ship as well. If you are a poor just keep picking brass the old way. If the money is not an issue then get one. It's awsome. It has no real utility for matches but for training it's great. If (like me) you train with a few friends you can buy a few little tubs to go underneath and just swap them out for each shooter. It catches like 95%+ of brass in static drills. The only exception is open guns with erratic ejection. The rear 'wall' is over 6ft high which means you can stand really close without your brass going over the top. You could try and make something out of a golf net etc. don't bother. This is a far better solution. Very clever design.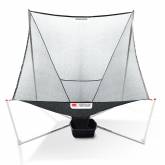 Glen
Date Added: Monday 31 December, 2018
Very nice product to avoid having to pick up brass off the ground. The brass catcher is very well designed and well made. High quality materials. Takes three minutes to set up or take down. We use separate buckets for each shooter so they can keep their own brass. I may buy another one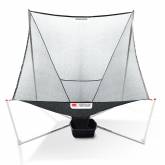 Tom Blackman
Date Added: Monday 24 September, 2018
Yesterday I shot the Steel Challenge match at Ontelaune. They were using these on the stages. What a wonderful product! It worked like a charm! Its easy to set up, can be entirely mobile, and take up very little space when put away. I first saw this yesterday and mine is on order as I write this!
CED Brass Chute
Alpha Dynamics USA
2908 Betz Court, Orefield, PA 18069

Phone: (888) 628-3233 or (610) 366-9752
Fax: (610) 366-9680
E-mail: sales@doublealpha.biz