Prices shown in USD | All items shipped from PA, USA
Alpha-X Holster
Alpha-X Holster
Reviews:
(Current Reviews:

121

)
PLEASE NOTE: If you are ordering a holster or an insert block for a CZ TS checkmate or CZ TS Orange, please contact us first with a picture of your trigger guard area. CZ seem to be using two styles of frames for these pistols ,and without seeing your gun, we will not know which insert model you need. More details here: Click here for more details.
* This is a complete Alpha-X holster with insert block of choice.
In recent years Double‑Alpha Academy's competition holsters have been setting the benchmark for advanced design and cutting-edge performance. The Race Master Holster has become the go-to competition holster worldwide for many top Champion shooters in our sport.
Double-Alpha is known for not standing still, and over time the Race Master Holster has been improved. Upgrades and refinements were made to its hanger system and more recently, to the patented insert block, making it magnetic and improving its performance further.
And now, over the past few months, DAA has been working on the next generation holster.
We are very proud to introduce the Alpha-X holster!
The ALPHA-X was born of years of experience and market feedback, looking to take the Race Master Holster even further, creating a new fresh, striking look and adding several meaningful performance upgrades.
New Ball Joint and Lock-Up Mechanism
The ball joint of the Alpha-X offers a wide range of motion, allowing you to position your holster at just the right angle. This holster uses a much larger ball joint and a pressure lug lock-up, which locks the ball firmly without marking or damaging it. With this system even the smallest adjustments are always possible.
The ball joint is now located higher up, closer to the center of the holster. This reduces the torque and forces applied, contributing to the solid rigid feel of the holster.
A large easy-to-reach one-screw locking system allows you to adjust the holster position even when wearing it.
Body Rail Height Adjustment
The Alpha-X achieves its height adjustment by means of a rail built directly into the side of the holster body itself. This offers an extended range of adjustment and again reduces torque and forces applied. Here too the lock up is achieved by an expanding dovetail mechanism that does not gouge or damage the rail.
Detachable Belt Hanger
The Alpha-X has a two-piece belt hanger which can be dismantled by opening a single screw, allowing all position settings to be maintained while removing the holster body from the belt for easier space-saving transport.
The Alpha-X belt bracket is designed to fit only on a 1.5" wide competition style belt. It will not fit on a 1.75" or a 2" belt unless you are prepared to cut a piece out of the belt. And, like all Race holsters, it should only be used on a firm, rigid, thick belt.
Interchangeable Color Logo Inserts
The Alpha-X is available in black anodize only, with an assortment of optional color inserts for the hanger and body logos. You can change these laser-cut plastic inserts whenever you choose.
The Same Race Master Insert Blocks!
The Alpha-X utilizes the same successful magnetic insert blocks used by the latest generation Race Master Holster. An Alpha-X Holster can be purchased with or without an insert block, making the upgrade easier and more affordable for shooters already using our Race Master Holsters.
With its improved performance, simplicity and striking new looks, the Alpha-X is poised to become the next Race Holster of choice for shooters worldwide.
CRITICAL SAFETY WARNING
Read the following instructions carefully before using this holster or Insert Block:
Never holster a loaded firearm without first engaging its safety.
Check periodically to ensure your safety is functioning correctly.
Never disengage the safety of the firearm until well clear of the holster and the muzzle is pointing down range.
Make sure you are fully familiar with the correct use, and adjustment of your DAA Holster before attempting to use it with a loaded firearm.
Make sure that you have the correct holster/Insert model for your type of firearm.
Do not use a holster that is unsuited to your firearm, as that could result in unreliable retention or release which could lead to a fatal accident.
Never use a trigger shoe or a widened trigger with this holster.
Double check that the retention and release work well, particularly if any modifications have been made to your firearm.
Care must be taken to ensure the gun is placed properly when returned to the holster. It if it is not positioned correctly, it will not be held securely and may fall out.
Never holster the gun quickly or with force, as that increases the chance of making contact with the trigger.
Any adjustment or modification to the holster design may render it unsafe or cause malfunction.
Take care that the firearm is not dislodged or knocked when holstered, particularly when the holster's safety lever is unlocked. As this holster has no muzzle support, take care that the muzzle of the gun is not bumped upwards, as this may dislodge the gun from the holster
Keep your fingers well clear of the trigger when holstering and drawing the firearm.
The holster should be locked when running or jumping with a holstered gun, or you should keep your hand on the gun's grip to prevent it accidentally falling.
Handling a loaded firearm, and drawing it from a holster is inherently dangerous. You do so entirely at your own risk and responsibility.
Liability is limited only to the replacement of this holster or parts thereof. No additional warranties are expressed or implied by the manufacturer or the distributors.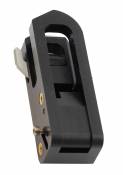 Race Master / Alpha-X Insert Block Assembly (Magnetic)
Peter
Date Added: Friday 29 March, 2019
I added a magnetic holster block for my Sig P226 SE recently. It arrived within days of ordering it and it fit without adjustment. This design works perfectly. My pistol is secure and draws short and precise.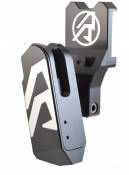 Alpha-X Holster
Paul van den Bosch
Date Added: Wednesday 20 March, 2019
The Alpha-X holster is a very good product indeed. I needed an additional race holster due to an increase in the number of hand gun disciplines I am now shooting and was initially reluctant to move away from my Racemaster, as I have been so very happy with it. But after encouragement from others I ordered the Alpha - X and so far, I am very pleased with it. It is every bit as good as the Racemaster, and has some very good features that my previous holster did not, especially for packing in luggage and consequent re-assembly.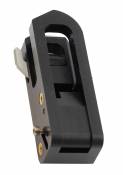 Race Master / Alpha-X Insert Block Assembly (Magnetic)
Paul van den Bosch
Date Added: Wednesday 20 March, 2019
I have had the same experience with the Glock insert block assembly as others, and therefore will not go through the fine detail. The block is not deep enough to allow the locking latch to slide all the way to the bottom of it's travel. The only way to get the locking latch to engage is to take material off the top of the insert. Could you please take notice of these concerns and revise the design of this block.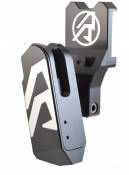 Alpha-X Holster
Jim
Date Added: Monday 04 March, 2019
I've had this holster a month now. It does what I expected and was simple to set up.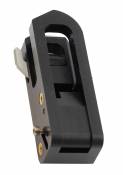 Race Master / Alpha-X Insert Block Assembly (Magnetic)
Vladimir Furman
Date Added: Friday 01 February, 2019
Purchased 2 Inserts - for CZ Czechmate and Tanfoglio Xtreme custom gold team. For CZ it is perfect. No need to adjust at all. Can use also for TS Orange. Win Tanfoglio it is a big design mistake. If you have any Tan Xtreme line gun with square trigger guard be ready to spend a lot of time to cut off at least 1/8\" along the entire side of the block in order to fit it. [DAA reply]: wrong insert was ordered - you should have selected the Stock III insert and not Stock II.
Alpha-X Holster
Alpha Dynamics USA
2908 Betz Court, Orefield, PA 18069

Phone: (888) 628-3233 or (610) 366-9752
Fax: (610) 366-9680
E-mail: sales@doublealpha.biz
General questions
Q: Which gun types the Alpha-X supports?
A: The Alpha-X holster uses the very same insert blocks as the Race Master holsters therefore it supports all Race Master holster gun types.
Q: Are the insert blocks for the Alpha-X magnetic?
A: Yes.
Q: Is it possible to swap the color inserts later on?
A: Yes, there is a small hole from the inner part of the holster encolusre to push the color insert out. Once out,...