Description
The UpLULA loader is a military quality personal universal pistol magazine loader. It is a radical new design, which allows for easy and smooth loading of practically ALL single and double stack pistol magazines (except for .22cal).
While loading you can support the base of the magazine on your body/thigh or on a table when available.




Features:
- Loads all* .45, .40, 10mm, .357, 38S and 9mm caliber rounds and magazines; both single and double stack mags.
- No inserts, spacers or adjustments at all! One size fits all.
- Easy and quick loading; Rounds just drop in with no fingers pushing or forcing the rounds.
- Up to one round per sec. loading rate, with some practice.
- Fits in your hand and pocket, weighs only 66 grams (2.3 Ounce).
- Highly durable - constructed of the best reinforced polymer.
- No more strain or pain when loading those mags!
- Load hundreds of rounds, easily.
- One loader fits all!.

Load them all*:
- Astra, Auto Ordnance, Barak, Beretta, Browning, Bul, Colt, CZ, EAA, FN, Glock, HK, Hi-Point, High Standard,
Jerico, Kahr, Kel-Tec, Kimber, Les Baer, Llama, Luger, Magnum Research, Para Ordnance,
Phonix Arms, Ruger, Sigma, Sig/Sauer, S&W, Springfield Armory, Star, Steyr, Taurus, Vector, Walter, and more.


 
Customer Reviews
Twan van der Meer
Date Added: Saturday 28 March, 2015
This useful thingy has just such a funny name! But this aside, it is very useful. When loading about 300+ rounds in a magazine I always got sore fingers. But this does not happen with the UPLULA. It takes some time getting used to, and you have to practice a bit. But then it works great and you can load your magazine quicker than just by hand. Just throw it into your range bag and it will come in handy every time! I have the large CED range bag, so sometimes it gets lost with all the other stuff I carry around, but after the second look in the bag it always pops up! ;-)
Tom
Date Added: Wednesday 01 October, 2014
A very useful tool. It is one of those products, where you think, how could I live without it and how come I didn't come up with that.
Johan
Date Added: Monday 11 August, 2014
Very good tool! I use it for sportshooting and when im on the range with my unit. Everyone loves it!
nigel
Date Added: Thursday 26 June, 2014
Works like a charm. Nice when a product does what it says it does.
TomcaT
Date Added: Monday 19 May, 2014
Es la mejor herramienta que he tenido, cargas y descargas rapidisimo sin ningún problema.
.45 Medic
Date Added: Sunday 06 April, 2014
Apparaatje werkt machtig. Wordt door meer en meer schutters gebruikt, op de schietbaan vragen mensen er regelmatig naar!
Richard Holman
Date Added: Wednesday 26 February, 2014
Nice thing to have. My thumb loves it. This report must have at least 50 characters.
Daniel
Date Added: Thursday 30 May, 2013
Really handy when loading alot. Quality feels great.
Related Products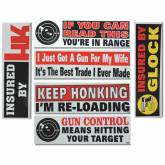 Ask about this item
UPLULA Universal Pistol Magazine Loader
Double-Alpha Academy BV
Elzenweg 33b, 5144MB, Waalwijk
The Netherlands
Phone: +31 (0)416 660 464
Fax: +31 (0)416 392 040
E-mail: daa(at)doublealpha.biz
You may also be interested in: