UPLULA Universal Pistol Magazine Loader
Reviews:
(Current Reviews:

44

)
The UpLULA loader is a military quality personal universal pistol magazine loader. It is a radical new design, which allows for easy and smooth loading of practically ALL single and double stack pistol magazines (except for .22cal).
While loading you can support the base of the magazine on your body/thigh or on a table when available.




Features:
- Loads all* .45, .40, 10mm, .357, 38S and 9mm caliber rounds and magazines; both single and double stack mags.
- No inserts, spacers or adjustments at all! One size fits all.
- Easy and quick loading; Rounds just drop in with no fingers pushing or forcing the rounds.
- Up to one round per sec. loading rate, with some practice.
- Fits in your hand and pocket, weighs only 66 grams (2.3 Ounce).
- Highly durable - constructed of the best reinforced polymer.
- No more strain or pain when loading those mags!
- Load hundreds of rounds, easily.
- One loader fits all!.

Load them all*:
- Astra, Auto Ordnance, Barak, Beretta, Browning, Bul, Colt, CZ, EAA, FN, Glock, HK, Hi-Point, High Standard,
Jerico, Kahr, Kel-Tec, Kimber, Les Baer, Llama, Luger, Magnum Research, Para Ordnance,
Phonix Arms, Ruger, Sigma, Sig/Sauer, S&W, Springfield Armory, Star, Steyr, Taurus, Vector, Walter, and more.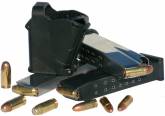 Oscar
Date Added: Thursday 30 July, 2015
Excelente producto, muy útil. Lo recomiendo cien por ciento.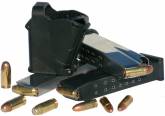 Alwin de Bruin
Date Added: Thursday 23 July, 2015
Saves time loading, also avoids painfull fingers. Fair priced, wonderful product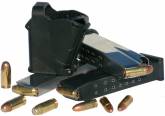 albionsupplies.com
Date Added: Wednesday 15 July, 2015
Essential for any double stack elongated hi cap mags.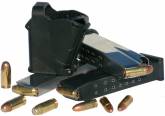 Tim Kares
Date Added: Thursday 09 July, 2015
Works like a charm for my Smith & Wesson M&P 9Pro. No issues. I love this gadget.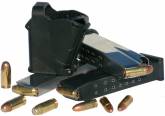 Twan van der Meer
Date Added: Saturday 28 March, 2015
This useful thingy has just such a funny name! But this aside, it is very useful. When loading about 300+ rounds in a magazine I always got sore fingers. But this does not happen with the UPLULA. It takes some time getting used to, and you have to practice a bit. But then it works great and you can load your magazine quicker than just by hand. Just throw it into your range bag and it will come in handy every time! I have the large CED range bag, so sometimes it gets lost with all the other stuff I carry around, but after the second look in the bag it always pops up! ;-)
Post to United States start from (Shipping cost for this product only): - Weight: 0.085Kg - Destination: United States (based on IP)
| | | |
| --- | --- | --- |
| | International Registered Parcel Post | $9.95 |
| | DHL | $65.61 |
UPLULA Universal Pistol Magazine Loader
Double-Alpha Academy BV
Elzenweg 33b, 5144MB, Waalwijk
The Netherlands
Phone: +31 (0)416 660 464
Fax: +31 (0)416 392 040
E-mail: daa(at)doublealpha.biz
You may also be interested in