Dillon RL550C with caliber conversion kit
Dillon RL550C with caliber conversion kit
Reviews:
(Current Reviews:

8

)
The Dillon RL550C is able to load rifle as well as pistol cartridges The RL550C uses standard 7/8 by 14 thread per inch dies, as long as they deprime in the size die Manually indexed shellplate Manually fed cases and bullets Capable of loading 400 to 600 rounds per hour Lifetime "No-B.S." Warranty.

The basic 550 includes:
Machine with caliber conversion kit (shellplate, locator buttons, powder funnel) in the caliber of your choice.
Powder measure with standard large and small powder bars (small installed), Small bar throws from 2.1 to 15 grains of powder Large bar throws up to 55 to 60 grains of powder.
One prime system with large and small priming parts.
One large and one small pick up tube
Low Primer Alarm
One toolhead
One powder die
One loaded cartridge catch bin
One written instruction manual
One set of standard Allen wrenches

No dies are included with the RL550C, and these need to be ordered separately.
Pictures shows optional upgrades which are not included: Strong Mount, Roller Handle, Bullet Tray, Low Powder Sensor.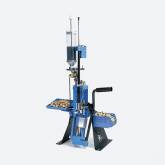 William
Date Added: Thursday 27 September, 2018
This machine does what it says on the tin excellent all went together with no problems first 20 rounds all fired and cycled great I also bought the 9mm Dillon die set and strong mount could not say enough good thing about these products. William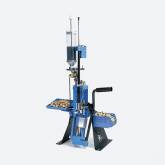 Clive Brockdorff
Date Added: Tuesday 18 August, 2015
This is a superb machine - fast enough for the vast majority of shooters, easy to switch calibres and very easy to learn how to reload with. I must have installed about 10 of these for clients and everybody has been more than satisfied - I use one myself...what more can I say ?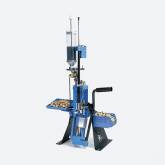 Niko Torfs
Date Added: Saturday 28 March, 2015
Well to be short, you need this one at least if you're reloading several handgun calibers. Single stage is nice but this one is actually a 4way single stage press which gives you a loaded round with every stroke. Loading 200-300 rounds an hour without forcing yourselve is easy.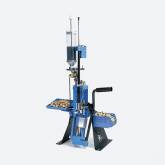 Allen Wilson
Date Added: Sunday 07 December, 2014
This is my first Dillon, I should have purchased ages ago, don't waste time and money and buy one at the start when setting out to start reloading. Why buy from the rest when you can buy from the best which is Double Alpha....great service thanks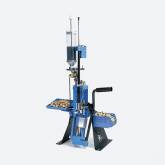 Arie Rijkhoek
Date Added: Monday 16 December, 2013
I allready owed a Dillon 550 and of this piece the crank broke. So what to do? I send Dillon an e-mail and they responded just as I was hoping for. They send me at no cost a new crank. I only had to pay for stamps and postage. This toke 2 weeks. Meanwhile I ordered a new Dillon 550 (my second) at Double Alpha and it arrived after 3 days and could reload ammo for my new gun and caliber for the next match. Now I have two working Dillon 550´s. If service is good, why bother about something els?
Dillon RL550C with caliber conversion kit
Double-Alpha Academy BV
Elzenweg 33b, 5144MB, Waalwijk
The Netherlands
Phone: +31 (0)416 660 464
Fax: +31 (0)416 392 040
E-mail: daa(at)doublealpha.biz