Combo: Self Sealing Reactive Target Kit (Plate and Base)
Combo: Self Sealing Reactive Target Kit (Plate and Base)
Reviews:
(Current Reviews:

11

)
A complete set of Self Sealing Reactive Plate + Base (also sold separately).

Double-Alpha Academy is proud to offer an assortment of NEWBOLD Self-Sealing shoot-through targets and their KD pivot bases. NewBold Self Sealing polymer targets were the first targets of their kind, introduced back in 1995, and still set the industry standard for this kind of target. The targets and bases are made of ElastiMAX, which is a tough, flexible, hi-tech polymer material. This material will allow the bullet to pass through the target whole, without risk of splatter or ricochets. However enough energy is transferred to the target to knock it over, making it a practical and fun to shoot reactive target. After the bullet has passed through, the ElastiMAX material closes up, leaving only a pinpoint hole where the bullet has passed. You can shoot as many as 1000 hits on a single plate with .45 caliber ammo! (and much more with smaller calibers) before the target will need replacing.

No splatter or splash make these targets ideal for use on indoor ranges, where steel targets often may not be used.

NEWBOLD targets are:
· Safer than steel – no splash or splatter – and can be used in practically all indoor shooting ranges
· Lighter than steel – weigh 7 times less than steel targets of equal size, making them easy to transport
· Time savers – with a pull of the string you can reset the target (or multiple targets) making them faster to use then paper or steel
· Totally weather proof – can be left outside without worry
· Reactive – an excellent training aid, giving immediate and positive reaction to the hit
· Fun to shoot! Just give them a try and you'll be hooked!

Q&A:
How long will my target last?
A 6" can take up to 1000 hits with .45 FMJ ammo before needing replacement. Many more in smaller calibers.
What's the best kind of ammo to use with these targets?
Either lead or FMJ (Ball) bullets are best. Using hollow points, wadcutters, semi-wadcutters and some flat-point rounds may shorten the life of the target Can I use rifle ammo on these targets?
Hi speed rifle ammo should be avoided, as most likely they will pass through the target too quickly to knock them over. Slower rifle rounds can be used, although these targets are primarily designed for pistol use.
Can I shoot at these targets with Pellets or BB's?
NO! They will bounce back and can be dangerous.
Can I use them with paintball?
Yes, they react well to paintball hits, and are easy to wash off as well
Is the same KV pivot base used for all KV targets?
Yes, you can use the same base with all targets.
Why are the targets and bases sold separately?
Bases are sold separately from the targets, as since the targets are (hopefully) going to be hit much more often than the bases, it is likely you can keep and use the same base for more than one target.

A "safe to shoot at target" requires a "safe to shoot at base" as well.
Although we try to keep all our hits on the target, the base is likely to be hit more than a few times too.

These base kits are made from the same ElastiMAX material as the targets themselves, allowing the bullet to pass through them with little to no damage at all. Even the large adjustment bolt and large mounting bolts are made of this same material. Each Target Base Kit includes:
· A KD Pivot target base (suitable for any size target)
· A large ElasiMAX adjustment bolt which allows you to set the weight of the target to your needs
· 2 large ElastiMAX mounting bults and nuts which can be used to mount the target to a stand
· 4 screws which can be used to mount the base to a wooden stand (can be used instead of the ElastiMAX mounting bolts)
· 15m long string for resetting the targets.

These bases are sold separately from the targets, as since the targets are (hopefully) going to be hit much more often than the bases, it is likely you can keep and use the same base for more than one target.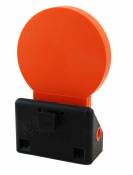 Combo: Self Sealing Reactive Target Kit (Plate and Base)
Markus Zingg
Date Added: Wednesday 06 February, 2019
Sehr gutes Material. Funktioniert auch bei Minus-Temperaturen perfekt.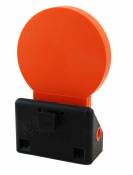 Combo: Self Sealing Reactive Target Kit (Plate and Base)
Johan
Date Added: Tuesday 19 December, 2017
Really good targets. We bought them for some clubcompetition and they were working all day long. Perfect system to make shooting mooren enjoyable. Good replacement for steelplates. And it is difficult to see your shot placement so it is also good to work on your fundamentals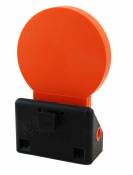 Combo: Self Sealing Reactive Target Kit (Plate and Base)
Woofie
Date Added: Tuesday 25 April, 2017
The actual target works well. I only have one complaint, It came with all these bolts and screws but no instructions on how to fit them together. As I was behind the door when spatial relationship skills were handed out, I am still scratching my head *grin* However, the concept of using this self sealing stuff for targets for non armed forces' types, is great :)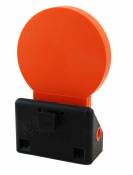 Combo: Self Sealing Reactive Target Kit (Plate and Base)
Keith Cottrell
Date Added: Thursday 29 September, 2016
I purchased the target as a sample as we are moving away from steel targets. It works very well and I should be purchasing several more in the very near fu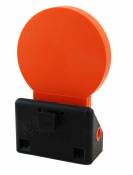 Combo: Self Sealing Reactive Target Kit (Plate and Base)
Jorge
Date Added: Thursday 09 July, 2015
Excelente servicio y las entregas son rapidas muchos prtoductos que en otros lugares no los envian desde este sitio si es posible. Gracias por todos los que participamos en la practica del IPSC
Combo: Self Sealing Reactive Target Kit (Plate and Base)
Double-Alpha Academy BV
Elzenweg 33b, 5144MB, Waalwijk
The Netherlands
Phone: +31 (0)416 660 464
Fax: +31 (0)416 392 040
E-mail: daa(at)doublealpha.biz