Contact Us
Prices shown in USD | All items shipped from PA, USA
CED Knee Pads
Reviews:
(Current Reviews:

16

)
Competitive shooting often requires fast maneuvering on stages of fire where dropping to one's knees, bending under low fixtures, or going prone may be required.

Protection of the knee area is vital in preventing injuries. CED and Double-Alpha Academy have teamed up in designing a protective yet very functional product for the competitive shooter today. The CED Knee Pad Set consists of two knee pads made with two layers of foam padding assembled into three sections, which in turn allow flexible movement while providing a custom tapered fit.

The CED Knee Pads can be worn over pants with easy attachment. No need to pull them over the shoes. The two adjustable straps attach quickly and easily around the leg using Velcro straps. Easy on /easy off!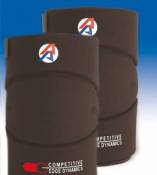 michele
Date Added: Wednesday 14 January, 2015
OTTIME GINOCCHIERE : LE CONSIGLIO A TUTTI GLI APPASSIONATI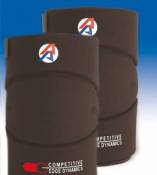 Graeme Cooper
Date Added: Thursday 20 November, 2014
Great piece of kit. Often knee pads are either too stiff or too bulky and are difficult to wear and move around the range. These are flexible and low profile but still offer a high degree of protection.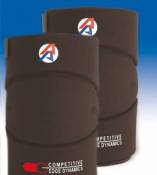 Claude Coupet
Date Added: Thursday 12 June, 2014
Un excellent produit pour l'IPSC car léger et néanmoins robuste sans pour autant ressembler à un Robocop des forces de l'ordre. Rapport qualité/prix excellent.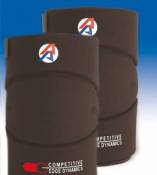 Stéphane
Date Added: Monday 02 June, 2014
Very great product, one of the best for IPSC, we have here at Tenerife a very inconfortable ground and this product help me a lot, confortable, strong and easy tu put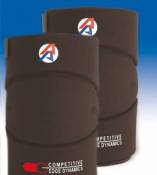 Laurent B.
Date Added: Monday 17 June, 2013
Ce ne sont pas les plus résistantes ni les plus protectrices mais à mon sens, c 'est le meilleur compromis pour la pratique TSV/IPSC.Protège largement (frontalement et latéralement) l 'articulation sans gêner les mouvements.Le système de fermeture ne coupe pas la circulation sanguine. Attention: ne résiste pas à la perforation (cailloux saillants ou pointes métalliques) Livrée avec une très utile pochette de rangement ré-utilisable qui se glisse aisément dans le sac de tir.
CED Knee Pads
Alpha Dynamics USA
2908 Betz Court, Orefield, PA 18069

Phone: (888) 628-3233 or (610) 366-9752
Fax: (610) 366-9680
E-mail: sales(at)doublealpha.biz
Also available in Combo(s)