Contact Us
Prices shown in USD | All items shipped from PA, USA
CED Brass Tornado Pro Series Tumbler
Reviews:
(Current Reviews:

7

)
The CED Brass Tornado, Pro Series Tumbler, is the ultimate tool for brass cleaning! It is the most advanced wet rotary tumbler on the market today! It incorporates features and functions never offered before, setting this Rotary tumbler high above the competition. With this Tumbler it is now possible to "fine-tune" the brass cleaning process, the time spent, and the results achieved.

Included Key Features:
· High strength, durable, 3.5L Acrylic CLEAR Drum
· Up to 8 kg (17.5 lbs. load capacity, comprising of brass water and pins)
· Metal Housing Construction with Heavy Duty Motor
· Digital Control Panel with digital circuitry
· ON/OFF & START / PAUSE Selection
· Adjustable Speed Selection (up to 100 rpm)
· Variable Direction Mode (up to 20 minute intervals)
· Timer (15 min. to 3 hour settings)
· Alarm Notification
· Memory Setting
· Custom designed Filtration Cover
· LED Operation Indicators
· 3.5 lbs. Stainless Steel Media
· 110V (USA-Canada) / 220V (Worldwide)



Wet Tumblers have been on the market for many years, but very few have been made compatible for brass cleaning. And of those – very limited features were offered. The CED Brass Tornado is the very first to offer variable speed settings, reverse directional spin which is programmable into the cleaning sequence and which greatly helps to agitate the brass and speed up the cleaning process. The large drum capacity with allow the cleaning of about 450-500 pistol caliber brass and 250-300 .223 rifle cases. (Quantity will vary by caliber)

More and more shooters are switch over from the conventional vibratory dry tumblers to Wet rotaty tumblers. The wet cleaning method works best with a totally tumbler fitted with a water tight horizontal drum to hold the brass cleaning solution and stainless pin-type media.

Through extensive testing, CED has developed an excellent cleaning combination of stainless steel media, water, Lemi Shine, and Lyman Turbo Sonic Cartridge Cleaner, which when combined results in glistening clean brass cartridges, inside and out, including the primer pockets. Our recommended combination, even seem to remove "water spots" and residue leaving shinning, spotless brass that look like new!

The tumbler consists of a re-sealable watertight drum, a driving system base on which to place the drum, and a motor to rotate the drum at ideal speeds of 40-60 RPM. The speed is important - too fast and centrifugal force will cause the cases and media to cling to the sides of the drum with virtually no cleaning action whatsoever. Too slow, and the cleaning process is inefficient and extremely time consuming. This is one of the single failures of other rotary tumblers on the market today. They offer only a "fixed" speed. Unfortunately, depending on the weight of the contents being cleaned, the drum will spin at different speeds.

The CED Brass Tornado solves this problem by offering variable speed selection from 5 to 100 RPM, allowing the user to select a faster speed for heavy loads or a slower speed for smaller load sessions. The CED Brass Tornado is designed with a hexagon shaped drum, which dramatically improves the cleaning process by creating more "tumbling" movement of the cases as they rub against each other and the steel media, which in turn removes all of the fouling and thoroughly polishes the cases inside and out, including the primer pockets when de-primed cases are in use.

The CED Brass Tornado a custom designed filtration cap that allows easy rinsing of the brass from the dirty water solution before separation and drying. Also included are 3.5 lbs. of stainless steel media, and a spare sealing O-ring. The CED Brass Tornado comes with a complete two year warranty, and CED stocks a full line of replacement parts / accessories if ever needed.

Net weight: 12 kgs. (26.4 lbs.)
Dimensions: 27 W x 29 D x 32 H cm (10.75 W x 11.5 x 12.25" H)
Click here for user instructions for this and other products.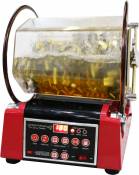 Igor Horvat
Date Added: Friday 01 December, 2017
Everything OK. I got the goods. I have no complains on the shipment.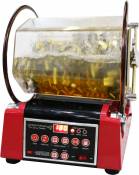 Bruce
Date Added: Friday 15 September, 2017
Typical excellent shipping and service from CED. The drum leaks a little so I have to use it in the laundry tub, but other than that, it works GREAT. Brass is now cleaner inside and out in less time. The steel pins take a little getting used to but with a decent media separator and a magnet they can be managed. I would definitely recommend CED and the Tumbler to anyone serious about reloading good ammo quickly.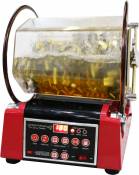 K Schmitz
Date Added: Tuesday 28 March, 2017
First, couldn't ask for better service, shipped promptly and quickly. Set up was a breeze and the results are outstanding. This unit was certainly well thought out and for cleaning brass! the features are simply ideal, the results couldn't be better. I'm a happy camper.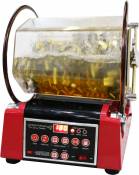 Christian Stahl
Date Added: Sunday 30 October, 2016
Great Tumbler. Now i can clean about 1100 9mm cases at once. After 1:15 hour they are like brand new. Unfortunatly my drum was broken when i got it. But Saul send me a new one immediately. So a big thank you for that great service. What else can i say. A big buy recommendation.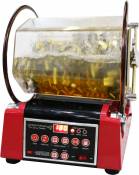 Clive Gamlin
Date Added: Sunday 26 April, 2015
Great bit of kit - it has reduced my brass cleaning times to a quarter of what they were.
CED Brass Tornado Pro Series Tumbler
Alpha Dynamics USA
2908 Betz Court, Orefield, PA 18069

Phone: (888) 628-3233 or (610) 366-9752
Fax: (610) 366-9680
E-mail: sales(at)doublealpha.biz