Prices shown in USD | All items shipped from PA, USA
Sordin Silicon Gel Replacement Ear Pads
Sordin Silicon Gel Replacement Ear Pads
Reviews:
(Current Reviews:

15

)
Making the best even better!

The replacement Silicon Gel Kits, include 2 Silicon ear Pads and 2 new insulation cushions. It is important to replace the cushions from time to time, to ensure good hygiene and best sound performance. This upgrade kit gives you extra cushions, in addition to the main item - the new silicon Gel Pads.

You need to try these to best appreciate them. The silicon in the pads is in a gel state, not liquid, so even if punctured it will not leak. The Silicon molds itself around the contour of your head, offering even more comfort and better sound protection that the normal sponge based ear pads.


The Silicon Gel pads really shine when you use the ear protection with shooting glasses, as we usually do. They mold themselves around the arms of the glasses, improving sound protection and preventing pressure of the glasses against your head.

The Sordin Silicon Gel Ear pads can be used with all the Sordin models offered here - the Supreme Pro, Pro-X and Pro+3. The original pads are easily replaced, and can be kept as spares for future use. No modification is needed to the ear defenders when using this silicon gel upgrade kit.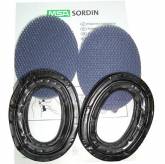 Nils
Date Added: Monday 25 June, 2018
Big improvement over the foam pads the Sordins came with. Softer, better seal, molds around eyepro much better.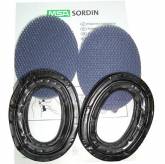 Steve Rosen
Date Added: Wednesday 27 July, 2016
Perfect compliment to the best hearing protectors I have ever used!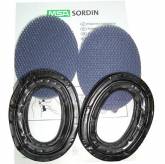 Ben Hur Yap boyshooter2003@yahoo.com
Date Added: Saturday 28 March, 2015
The best accessory for the best earmuff! Brings the sound attenuation and comfort of wearing to highest level!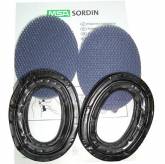 Konstantin DIMITROV
Date Added: Tuesday 17 March, 2015
I use the SORDINS when I shoot with my Sig P229 (.40 cal.). The product is excellent, with very good characteristics and extremely comfortable.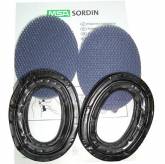 Dimitris Anagnostopoulos
Date Added: Wednesday 16 April, 2014
Perfect fit, much softer than the standard ones, it would be so nice to have them standatr fitted on the Sordin!
Sordin Silicon Gel Replacement Ear Pads
Alpha Dynamics USA
2908 Betz Court, Orefield, PA 18069

Phone: (888) 628-3233 or (610) 366-9752
Fax: (610) 366-9680
E-mail: sales@doublealpha.biz