Prices shown in USD | All items shipped from PA, USA
CED/DAA RangeCart Pro
CED/DAA RangeCart Pro
Reviews:
(Current Reviews:

11

)
Please note: The pictures show the Cart in use with additional items which ARE NOT included with the cart:
The umbrella is not included
The Rangepack Pro is not included (the 3-legged stool is part of the Rangepack)
The ammo box and magazine are not included
The SPA water bottle is not included
Rangecart Pro - the ultimate IPSC range cart.
If you have ever attended a match on a really large, spread-out range, you will appreciate how handy and helpful a cart can be. We shooters do tend to lug around a lot of gear and ammo to a big match.

Our new RangeCart Pro is designed from the ground up with the practical shooter in mind. It is designed to be the perfect support product for our RangePack Pro backpack, but can be used equally successfully with almost any range bag.

Made of rugged, top quality aluminum tubes and steel joints and hinges, this range cart can securely carry over 50 kg of gear. And with its wide inflatable all-terrain tires, it can carry that weight anywhere you need to go!

Quick release assembly pins allow you to fold the cart down in seconds, making it possible to pack into any moderately sized suitcase or even the smallest car trunk. You need never leave it behind.

The cart incorporates a clever umbrella holding system, designed to secure a folded or an open umbrella and hold it firmly in place.

The D1000 fabric backing is as functional as it is attractive. On the front top end, positioned high for easy access while standing, is a fold-out ammo shelf, on which you can place 100 rounds of ammo and load your magazines comfortably. A great feature for those ranges without tables! Beside this fold-out tray are a couple of extra magazine pockets, for added convenience.

Built into the back below the rubberized handle is a generous-sized, heat insulated "lunch box" compartment, the perfect place for your fruit, sandwiches and snacks you want with you out on the range. Below that are two large water bottle holders, easily storing 1 L bottles.

Weight: 3.5 kg Wheel Base: 42 cm Handle Height: 113 cm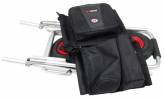 Gérard A.
Date Added: Thursday 21 June, 2018
Excellent matériel, really great and well adapted to the different Range Bags provided by DAA. I cannot imagine not using it anymore. Friends of mine are owning this cart since years and are very happy with, it is very sturdy and handy, excepet for the inner tubes of the tyre, 2x/year =_ flat tyres, wheels should be "plain".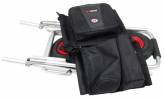 Dave C
Date Added: Wednesday 25 April, 2018
Wow, this range bag exceeded expectations. This company delivers a great product that will truly last a lifetime. They have thought of everything! Well done.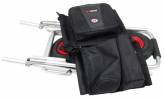 Randy Sneed
Date Added: Sunday 04 February, 2018
Excellent cart moves my #50 Range bag Pro with ease. Rolls over obstacles and rough ground without incident. Would buy again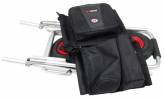 Mario Ines
Date Added: Friday 09 June, 2017
Absolutely happy with the product with just a little concern withe wheels..wish it was more heavy duty.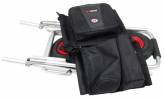 Tom Robb
Date Added: Tuesday 30 August, 2016
ordered this cart as I intend it to do double duty on Stickledown range at Bisley as well as pistol ranges. Very happy with carts construction and there is enough flexibility in it's design to allow me to use the bottle bins on the rear to carry my spotting scope and tripod along with two full bore rifles up front with small range bag. On pistol range it has performed admirably, of special note are the pneumatic wheels which work well of soft gravel with a heavy range bag (three large bore handguns and 1000's of rounds. Wish I'd bought this years ago: very happy, and have gathered quite a few admiring looks with it too.
CED/DAA RangeCart Pro
Alpha Dynamics USA
2908 Betz Court, Orefield, PA 18069

Phone: (888) 628-3233 or (610) 366-9752
Fax: (610) 366-9680
E-mail: sales@doublealpha.biz
Also available in Combo(s)