Prices shown in USD | All items shipped from PA, USA
Single Stack Spacer for RM, Racer and IDPA Pouches
Single Stack Spacer for RM, Racer and IDPA Pouches
Reviews:
(Current Reviews:

5

)
This adaptor makes it possible to use your Race Master, Racer or IDPA pouches with Single Stack 1911 Magazines.
The spacer fits on the inside of the outer wall of your pouch, using the supplied button-head screw.
You will need to use the thick side spacer and thin pressure spacer you received with the pouch, and in combination with this additional spacer, your single stack magazine will be positioned in the centre of the pouch body and will release smooth as butter!
Please note: this Single Stack Adaptor is for the Race Master, Racer, and IPDA Pouch.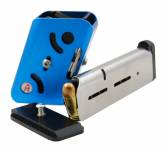 mike
Date Added: Saturday 09 December, 2017
i used these for uspsa 1911 single stack and thy worked perfect. perfect retention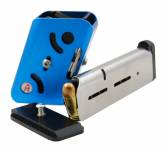 Steve
Date Added: Tuesday 21 March, 2017
Quick delivery as always from DAA. Very easy to fit and was up and running within a few minutes. Made a big difference using gsg 1911 mags.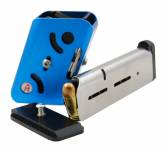 Christian van der Kruijf
Date Added: Saturday 28 March, 2015
Very easy and perfect fit! I even made an extra spacer to convert to .22 mag.. just 3mm aluminum plate in the same shape! great support!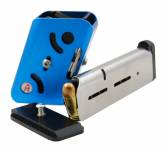 Fierly Aziz
Date Added: Tuesday 27 March, 2012
Very easy to install, Very fast shipping, good communication with the seller.... Tx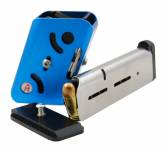 Alexandros Vardakas
Date Added: Wednesday 05 October, 2011
I got it, shipping was very fast, items are corect without any damage, and I'm very satisfied
Single Stack Spacer for RM, Racer and IDPA Pouches
Alpha Dynamics USA
2908 Betz Court, Orefield, PA 18069

Phone: (888) 628-3233 or (610) 366-9752
Fax: (610) 366-9680
E-mail: sales@doublealpha.biz
Also available in Combo(s)