Prices shown in USD | All items shipped from PA, USA
Mark 7 PrimerSens - Low primer Sensor
Mark 7 PrimerSens - Low primer Sensor
Reviews:
(Current Reviews:

1

)
The PrimerSense® Low Primer sensor takes the guess work out of your loading operation by alerting you when you are low on primers mechanically. The Mark 7® unit already has a programmable stop due to low primers that you enable from the included computer tablet. Install this mechanical unit and you are double protected from running out of primers and spilling powder all over your shell plate.
This unit installs in moments with the included hardware and rides underneath Dillon's audible primer sensor. When that unit goes off, PrimerSense® will also be enabled and it stops the machine at the end of the stroke. You will then see a note on the computer tablet to refill your primer tube. A must-have for people that want full protection from running out of primers which can ruin your whole reloading session. Covered under the Mark 7® exclusive warranty.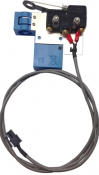 Robin
Date Added: Monday 04 February, 2019
Bought this sensor together with the optical decap sensor. It comes with two different mounting solutions to accommodate both old and new style Dillon primer alarms. Installation is easy but you might need to bend the rod a little for the switch to properly activate. I also had to increase the weight of the primer rod to activate the switch properly. All in All, works as designed and again a must have within an automated reloading process.
Mark 7 PrimerSens - Low primer Sensor
Alpha Dynamics USA
2908 Betz Court, Orefield, PA 18069

Phone: (888) 628-3233 or (610) 366-9752
Fax: (610) 366-9680
E-mail: sales@doublealpha.biz