Prices shown in USD | All items shipped from PA, USA
DAA Magnetic Magazine Pouch
DAA Magnetic Magazine Pouch
Reviews:
(Current Reviews:

37

)
The DAA Magnetic Magazine Pouch just got EVEN BETTER!

We are pleased to announce that effective immediately all DAA Magnetic pouches now ship with the "Clip On" base pad. This new innovative base pad greatly reduces the amount of bulk on your belt, taking up less space and creating less of a separation between your inner and outer belt. With this base you can mount your magnetic pouch snug up and close to any of your other pouches, an not worry about the outer belt loosing grip with the inner.

A must have item for those "pick up the mag" stages. With this custom made magnetic mag holder, you can slap your extra magazine onto your belt as fast as you can pick it up from the table! Never again waste precious time fumbling to insert a magazine into your magazine pouches!

The magnet used is almost 50mm in diameter and over 10mm thick, giving a pulling power of over 100kg! this insures that it will hold your loaded magazine securely in place even as you run and jump. It's smooth surface enables you to grab the magazine and slid it off upwards, when you need to use it to reload. The magnet is so powerful that you cannot possibly pull the magazine straight off the magnet, but rather you have to slide it upwards, which works great for a fast reload.

Warning! Keep magnet away from your credit cards and electronic equipment!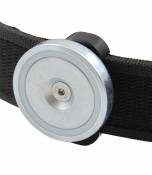 Jeff Bingham
Date Added: Tuesday 02 April, 2019
Strong like bull....could hold 2 mags securely. Keep your fingers clear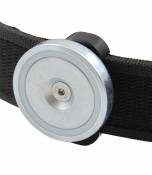 Matt
Date Added: Tuesday 16 October, 2018
Works great. Got a shorter screw and mounted it to my Alpha-x pouch. Love it.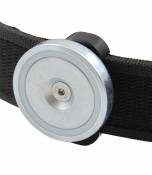 Chris Gourley
Date Added: Tuesday 01 May, 2018
I wanted to try this for large mags on unloaded PCC starts. It works pretty well with stock 33-rd Glock mags, but extended mags like a 47-rd MBX Mini will move a lot and come off rather easily. It holds better with the rear of the mag turned towards the magnet rather than the sides. This will work fine for grabbing the mag at the buzzer, but don't expect to be able to run with an extended mag on there without losing it.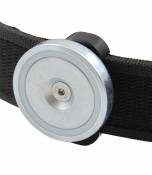 Chris Stadler
Date Added: Tuesday 24 April, 2018
Way too convenient not to have on your belt. Ideal for the first mag and perfect for table or barrel starts where your mags have to start off your belt. Always quality, well designed products from DAA, with awesome service as an added benefit.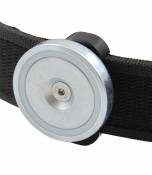 Hao Luan
Date Added: Wednesday 21 March, 2018
1, Good quality 2, Reasonable price 3, Ideal product to be used 4, Highly recommended
DAA Magnetic Magazine Pouch
Alpha Dynamics USA
2908 Betz Court, Orefield, PA 18069

Phone: (888) 628-3233 or (610) 366-9752
Fax: (610) 366-9680
E-mail: sales@doublealpha.biz