Prices shown in USD | All items shipped from PA, USA
DAA 100-Pocket 9mm Gauge, with Flip Tray
DAA 100-Pocket 9mm Gauge, with Flip Tray
Reviews:
(Current Reviews:

5

)
Serious shooters understand the importance of testing their ammo before a competition. After all, most malfunctions in semi-auto pistols can be traced back to out-of-spec ammo. Unless the ammo is perfect, you can't really expect a trouble-free match.
The Double Alpha 100-Pocket 9mm Gauges are precisely machined from Aircraft-grade aluminum, then tumbled and anodized for a striking long lasting finish. These large gauges include a Delrin flip-tray lid, which makes it quick and easy to transfer the tested bullets from the gauge and into your Dillon Precision Ammo box.
That's right, our 100-Pocket Gauge is design smaller and tighter, to match exactly the dimension of the compact Dillon ammo boxes, which are preferred and used by so many shooters worldwide.
The compact size and tight pocket layout of our Gauge holes also make it easier to drop in multiple rounds from your handful of ammo, thus filling the holes faster and easier than other gauges which have their holes more spread out.
Another cool feature of this gauge is that while the overall height is tall enough too allow the bullet to enter all way the into the gauges while it is laying flat on a table top (30.1mm tall), the underside of the gauge has a cut-out pocket to enable you to push up on the bullet tip of a round that may be tight and stuck in the pocket. You won't have to go look for a plunger tool to use, as you may with other gauges. Simply push up on the round with your finger until it pops loose.
Using the DAA 100-Pocket 9mm Gauge, you will be able to test you ammo, and place it into your Dillon 100 round ammo boxes faster and easier than ever before.
Product includes:
1x Aluminum 100-pocket gauge block
1x Delrin 100-hole flip tray.
Available in Black only.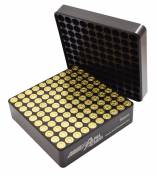 Kirk Martinsen
Date Added: Sunday 24 February, 2019
This is a great improvement to my reloading. I used to have a 7 place checker but now with 100 and "alignment" into plastic boxes I save a lot of time. The ability to push bullets back up and out is helpful too. This is the best dollars that I have spent in a while.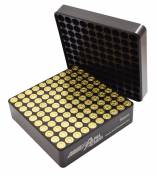 TILAK
Date Added: Thursday 21 February, 2019
Picked up the 100 round gauge from the bargain bin and couldn't be happier - I pack 100 round boxes by hand so to fill the 100-pocket gauge then flip into various boxes (Plano Molding / Frankford arsenal) is a time saver and improved sorting for mixed, multiple-fired brass.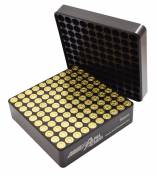 Javier
Date Added: Tuesday 27 November, 2018
Buen producto. Dos en uno: comprueba que las dimensiones de la bala son las correctas y te facilita su almacenamiento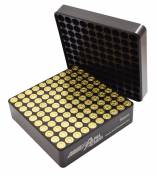 Stefan
Date Added: Tuesday 30 October, 2018
This is a really good product that makes it super easy to check your ammo. Haven't found anything thing negative with it.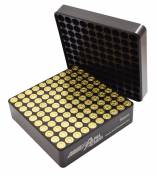 Tom
Date Added: Wednesday 24 October, 2018
Good product from an excellent company. Finish is very nice and the flip tray works perfect. It's a little tighter than my Lyman single case gauge. I like that the bullets sit flush setting on the bench. You don't have to lift it up like a shockbottle. It works with the Cabelas 100 round ammo boxes. Worth the little bit of extra money in my opinion.
DAA 100-Pocket 9mm Gauge, with Flip Tray
Alpha Dynamics USA
2908 Betz Court, Orefield, PA 18069

Phone: (888) 628-3233 or (610) 366-9752
Fax: (610) 366-9680
E-mail: sales@doublealpha.biz