Prices shown in USD | All items shipped from PA, USA
DAA XL650 Primer Output Tube Assembly
DAA XL650 Primer Output Tube Assembly
Reviews:
(Current Reviews:

7

)
If you load on an XL650 you have probably encountered the annoyance of spent primers bouncing off the Spent Primer Cup and ending up on your reloading bench or floor.
The DAA XL650 Primer Output Tube Assembly puts an end to that problem by attaching directly over the spent primer exit window, and ensuring that spent primers have only one place to go – down the tube!
The assembly is supplied with a 120cm (4ft) long PVC flexible tube, which will allow you to collect your primers in a container or bottle resting on the floor or attached anywhere under your press.
The assemble includes:
- A 120cm (4ft) long PVC flexible tube
- A Delrin machined adaptor plate to fit to your XL650
- Two longer 8-32 screws to replace the original ones on your Dillon
Assembly Instructions:
1. Remove your spent primer cup (part 16211) and spent primer cup bracket (part 16209) by unscrewing the two primer cup bracket screws (part 14689)
2. Detach the PVC pipe from the adaptor. This makes it easier to assemble the adaptor. Pull the pipe firmly to detach
3. Using the provided longer screws, attached the Delrin adaptor plate to the same mounting holes just vacated. Note that the part is directional – hold it so that the output hole lines up correctly with the exit window of the primers (the pipe mounting point will be on the side closest to you)
4. Reattach the PVC pipe, and run it down to a collecting container. You can consider drilling a hole through your workbench to run the pipe vertically down
Please note:
This assembly is designed to fit current XL650 models. It will not fit units made prior to 1997. (if your 650 has the blue plastic Spent Primer Cup – it is current and will fit)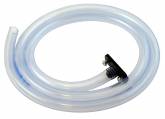 Øystein Rambøl
Date Added: Wednesday 28 November, 2018
Excellent product but the tube has a strong bend in it. Had to string it up with a weight or it would snap back into a coil. Replaced it with a softer tube.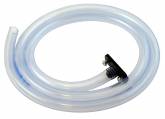 Jonathan Flanner
Date Added: Thursday 30 November, 2017
Works great. Simple but effective. The primers just drop down into the tube and then into my bucket. No dirt or debri around the press. I did have to buy two new screws because the ones in the package were too short. Still a great product.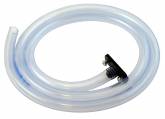 George Miller
Date Added: Thursday 30 March, 2017
This immediately and simply solved the problem of having spent primers scattered across the floor and my workbench. Should be included with all Dillon 650's as standard!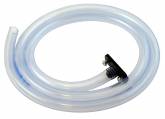 Guillaume BEAUDOIN
Date Added: Sunday 29 January, 2017
aucune amorce qui passe au travers et qui se retrouve au sol ou sur l'établi. Un petit plus indispensable pour toute les 650XL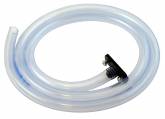 Klaus
Date Added: Monday 28 November, 2016
Wenn man viel wiederlädt ist der orginal Dilonbehälter für die abgeschlagenen Zündhütchen viel zu klein. Eine weitaus bessere und Lösung ist die Schlauchvariante, denn mit ihr lassen sich die verbrauchten Zünder direkt in den Mülleimer befördern. Die Montage ist sehr einfach.
DAA XL650 Primer Output Tube Assembly
Alpha Dynamics USA
2908 Betz Court, Orefield, PA 18069

Phone: (888) 628-3233 or (610) 366-9752
Fax: (610) 366-9680
E-mail: sales@doublealpha.biz