Prices shown in USD | All items shipped from PA, USA
DAA 10-Pack Stainless 929 Moon Clips 0.037"/0.040"
DAA 10-Pack Stainless 929 Moon Clips 0.037"/0.040"
Reviews:
(Current Reviews:

7

)
The Double Alpha 8-round 9mm Moon Clips are designed for the new and popular Smith & Wesson 929 9mm revolver.
These match-grade moon clips are comparable in quality and performance to the very best available, but at a more affordable price, achieved through volume and hi-tech production.
Our Moon Clips are laser cut from hardened 413 Stainless Steel achieving an unparalleled hardness of 44RC, making them extremely durable and resistant to bending and deforming.
We now offer these popular moon clips in two thickness options: 0.037" (0.92mm) or 0.040" (1.00mm).
Depending on the type of brass you are using, and the headspace you have in your revolver, one type or the other will offer you the best performance. It's important, of course, to achieve just the right amount of retention of your ammo in your moonclips to enable the best, most consistent reloads. Choose the type to best suite your ammo specifications.
The stainless steel used is magnetic, and the smaller-than-most cutout for the extractor ensures more overlap and optimum performance when used on magnetic moon clip holders, such as our DAA 8-shot moon-clip holders.
Please note:
Brass dimensions vary greatly between brands and in some cases even within certain brands.
We have found that our moon clips work with most brands. However, for most brass, loading and unloading tools are required.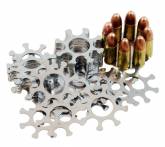 Martin
Date Added: Monday 11 June, 2018
the clips seem to work as well as the original s&w clips of my 929 do. very happy user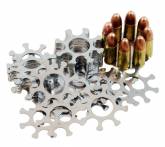 Richard Bryant
Date Added: Wednesday 18 April, 2018
Loving the moon clips so far! Holds the ammo just a bit tighter making reloading easier. I didn't experience any problems with my reloads and I use any brass I pick up from the range. The factory ones with the TK stamp actually had a few reloaded cases it wouldn't seat. I noticed the magnets don't hold onto them quite as much as the factory steel ones. Just getting started with my 929 in revolver competition so not sure if this is a good or bad thing. I will let you know once I get my moon clip holder.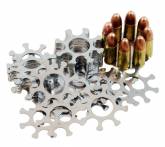 Paul Catania
Date Added: Saturday 31 March, 2018
Excellent Stainless Moon Clips, Great Quality. The moon clips work great in my 929, better than those that came with the revolver. The revolver misfires often with the moon clips supplied by S&W with the ammunition I am currently using. The DAA Moon Clips appear to be a little thicker, hold the ammunition tighter, and thus holding the striking face of the ammunition closer to the firing pin, NO MISFIRES !! Highly Recommended.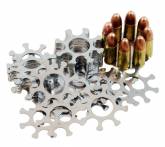 John Grazioso
Date Added: Thursday 15 June, 2017
These moon clips work great well worth the money. I have purchased cheaper ones in the past and they don't last very long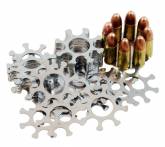 Otto Hermann
Date Added: Friday 30 December, 2016
Super Qualität, gehen leider nicht für 627. Dann wäre es noch besser.
DAA 10-Pack Stainless 929 Moon Clips 0.037"/0.040"
Alpha Dynamics USA
2908 Betz Court, Orefield, PA 18069

Phone: (888) 628-3233 or (610) 366-9752
Fax: (610) 366-9680
E-mail: sales@doublealpha.biz