Prices shown in USD | All items shipped from PA, USA
DAA Racer Pouch Magnet Kit
DAA Racer Pouch Magnet Kit
Reviews:
(Current Reviews:

7

)
The DAA Racer Pouch Magnet Kit includes the parts you will need to attach the DAA magnet to your DAA Racer pouch. This includes:
1. DAA large magnet
2. Stainless steel M5 10mm screw
3. Brass thermal insert M5 nut, 6mm long

You will require:
1. A drill and bit of 6.3-6.5mm
2. A soldering iron to heat the nut and push it through
3. A file and some sandpaper to clean the plastic on the inside of the pouch

Assembly:
1. Dismantle your pouch body, and remove the side insert for easier access.
2. Decide on where you want to position the magnet, and drill a 6.3-6.5 mm hole through the pouch wall.
3. Push the insert into the hole, from the inside of the pouch, you will be able to get just the tip of the insert into the hole.
4. Using the tip of a hot soldering iron, push on the insert gently until it heats up enough and starts to sink into the plastic. Use a light-hand and be patient! Do not push it through too hard or too fast, you do not want it going all the way through the side wall of the pouch. Push the nut through until it's tail is flush with the inside of the pouch. It will protrude out on the outside about 3mm.
5. Using a file and/or some sand paper, clean off any plastic residue you may have around the edge of the insert on the inside, so that it does not interfere with the magazine in the pouch.
6. Attach your magnet to the pouch using the supplied screw. You can use a drop of locktite to prevent the screw from coming loose.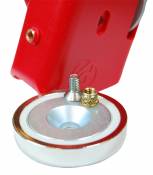 John Goes
Date Added: Monday 19 March, 2018
Great magnet. Very very strong. I use it mainly for storing my magazine right after the stage ends. Maybe send a little tool for melting the bolt through the pouch for the right depth? Someting like a 3mm U-shaped plastic strip.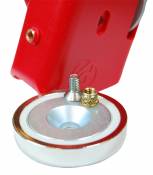 Alessandro Cinelli
Date Added: Friday 24 April, 2015
Great for quickly clip 2 magazines! very usefull during the race!!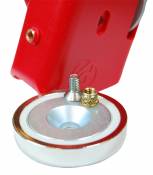 Jonas
Date Added: Thursday 05 June, 2014
Complete kit that is easy to install on any plastic pouch. The magnet is stronger than any found in a hardware store.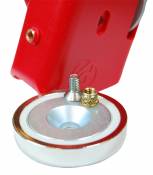 Alexander Malerbakken
Date Added: Wednesday 30 April, 2014
Excellent addition to the already great racer poiuch. Read the instructions and you'll be all good, just be aware of the risk of getting the insert kinda sideways, and/or pushing it too far.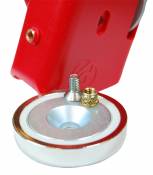 Joakim
Date Added: Monday 03 February, 2014
Updated comment.. Read the instructions properly, I pushed the insert from the outside and in which was wrong, do not do that. Probably much better if done according to instruction. Very strong magnet, holds mag securly, even if you put two magazines on it.
DAA Racer Pouch Magnet Kit
Alpha Dynamics USA
2908 Betz Court, Orefield, PA 18069

Phone: (888) 628-3233 or (610) 366-9752
Fax: (610) 366-9680
E-mail: sales@doublealpha.biz