Prices shown in USD | All items shipped from PA, USA
DAA Magnet with M5 screw for Alpha-X / Race Master pouch
DAA Magnet with M5 screw for Alpha-X / Race Master pouch
Reviews:
(Current Reviews:

8

)
Due to popular demand we are now pleased to offer you the DAA Super-Strong magnets, sold separately, for mounting on the DAA Alpha-X / Race Master pouches, or any other type of base you care to use them on.

These Zinc plated magnets are incredibly strong, offering approx. 87kg of pull strength. With these magnets, you can slap on that magazine quickly and confidently and know that it will not fall off as you move. The magnets measure almost 50mm in diameter, and are 12mm thick (with their casing).

Fitting to an Alpha-X / Race Master Pouch:
In the front of the pouch there is a 4.2mm hole, which can be used to attach the magnet to the pouch body. You will need to tap (thread) this hole using an M5 Tap. Do it carefully and slowly as the thread needs to be precise, as there is only a 2.5mm side wall to work with. once done, simply screw the magnet directly onto the front of your leading pouch. We suggest using a little LockTite on it, to keep the screw from opening.

Do not worry if the tip of the screw protrudes slightly into the pouch body - the magazine does not reach down far enough to hit it.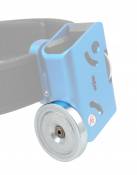 NATHANIEL GRAY
Date Added: Friday 12 January, 2018
Very strong and a perfect fit for the race master mag pouches!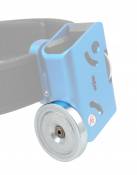 Jason Tether
Date Added: Tuesday 19 May, 2015
Mounts nice to race master mags and very strong use it lots..Ac tally couple of friends have bought one as for there Glocks which it holds there mags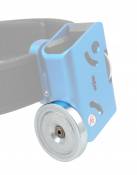 Anne-Valérie Fonder
Date Added: Wednesday 15 April, 2015
magnet porte chargeur indispensable en compétition pour tous les départs chargeurs sur table. S'installe très facilement sur les portes chargeurs alu DAA qui ont un orifice taraudé pour cette raison.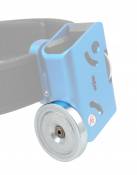 Patrick Coolen
Date Added: Tuesday 31 March, 2015
works perfectly, didn't even have to thread my race master pouch, already had thread in it. so just bold on, Nice. strong magnet , can easily hold 2 fully loaded magazines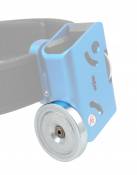 Eustathios Milonas
Date Added: Tuesday 07 May, 2013
Very powerfull magnet. I' m sutisfied with the way that holds the magazine! Highly recommended!
DAA Magnet with M5 screw for Alpha-X / Race Master pouch
Alpha Dynamics USA
2908 Betz Court, Orefield, PA 18069

Phone: (888) 628-3233 or (610) 366-9752
Fax: (610) 366-9680
E-mail: sales@doublealpha.biz
Also available in Combo(s)