Prices shown in USD | All items shipped from PA, USA
DAA Golden Multi Gauge
DAA Golden Multi Gauge
Reviews:
(Current Reviews:

7

)
Never be without the right test gauge again!

This compact 4 pocket gauge offers you all 4 popular calibers in one piece - 9mm, .38Super, .40SW and .45ACP. The gauge is machined from top quality aluminium and anodized in gold color. The gauge pockets are finished using Clymer chamber finishing reamers, to ensure absolute correct dimensions.

The Multi Gauge measures only 16x52x32mm and is small enough to fit into any pocket or tool box. The height is purposely cut shorter than other gauges, so that the tip of the bullet head sticks out. If a bullet gets stuck, as reloaded ammo often does - you can simply push it loose from below with your finger, without having to pick up a tool.

It includes a small eyelet which allows you to hang it on a key chain. A must have item in every range bag!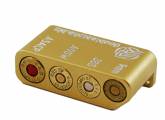 Kris Bernstein
Date Added: Tuesday 27 February, 2018
If your reloading bench does not have this absolutely essential tool, your reloads will suffer and will make your hunting and/or competitive match turn into one very long and miserable day! There is only one very critical way to know if your reloads are within SAMI spec and that is to drop each-and-every round into a case gauge. As this gauge covers all my reloads in 9mm, .40 (or 10mm) and .45. I don't have to worry about loosing multiple gauges on my bench. Simply stated: Don't reload without it!!!!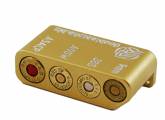 Vilmar Diogo
Date Added: Wednesday 06 September, 2017
Excelente produto, prático e muito eficiente para que se destina, Doulble Alpha Academy está de parabéns !!!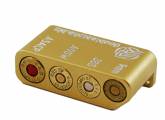 Guillaume BEAUDOIN
Date Added: Sunday 29 January, 2017
Parfait pour une utilisation sur les pas de tirs, mais aussi à côté de la presse. A avoir prêt de soi en permanence !!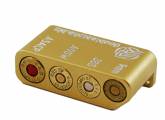 Nathan
Date Added: Wednesday 01 April, 2015
Awesome product. Glad I bought this. I load 9mm, 40 cal and 45acp. I use this to prepare for matches and keep with range bag too. Highly recommend.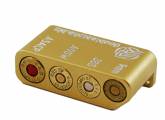 Gabriel LEVY-BENCHETON
Date Added: Monday 18 February, 2013
This gauge is very useful and thanks this purchase I can control the rounds reloaded and can correct them quickly before facing trouble shooting on the range. I recommend such purchase very useful
DAA Golden Multi Gauge
Alpha Dynamics USA
2908 Betz Court, Orefield, PA 18069

Phone: (888) 628-3233 or (610) 366-9752
Fax: (610) 366-9680
E-mail: sales@doublealpha.biz