Prices shown in USD | All items shipped from PA, USA
DAA Electronic Hearing Protection EHP27
DAA Electronic Hearing Protection EHP27
Reviews:
(Current Reviews:

5

)
The DAA Electronic Hearing Protection EHP27 offer outstanding value and top-tier performance at an affordable price.
These noise cancelling electronic hearing protection offer certified SNR 27 dB sound protection in a truly compact and lightweight package.
The Double Alpha Earmuffs include, as standard, custom Gel ear pads which improve sound protection (especially when used with glasses, as is common on shooting ranges), a handsome quality EVA hard-shell case with zipper closure and a D-ring hanger, and a stereo AUX IN cable. This cable allows you to listen to music from your phone or other device.
The EHP27 is fully collapsible and packs into its compact case to minimize space required for transport. And should you forget to turn it off – it has a 4-hour automatic power shut-off feature, to avoid your batteries running flat.
The unit is powered by two AAA batteries (included) which provide sufficient power for 200-300 hours of use.
Comfortable, lightweight, and loaded with luxurious features and accessories, this set is hard to beat, even at a much higher price point.
* This hearing protection is not waterproof, and should not be used in the wet.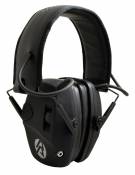 Jim H
Date Added: Monday 03 December, 2018
Thanks to Saul and Josh at Double Alpha for another product innovation that works as promoted. The gel pads are the most comfortable I have used. No background hiss when amplifier turned up and compgun sound muffled completely.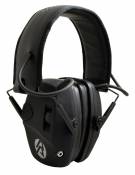 AL GARGANO
Date Added: Sunday 02 December, 2018
FIT AND COMFORT LEVEL VERY GOOD, STORAGE CASE A GOOD IDEA. NOT CHEAP BUT SEEMS TO BE MORE THAN WORTH THEIR PRICE. THEY WORK AS WELL AS ANY I HAVE TRIED.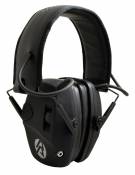 Ego Ross
Date Added: Friday 16 November, 2018
Great and high quality. Highly recommended for everyone who looking for best boy toys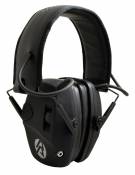 tom
Date Added: Thursday 15 November, 2018
Most comfortable ears I have ever owned. Been shooting for 40 years and I would highly recommend This product. A+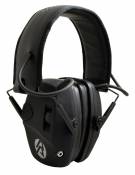 Michael Thomas
Date Added: Monday 15 October, 2018
I have recently had a problem with electronic hearing protection. Without mentioning names, none of them seem to work for me. Either the batteries would die during a match or they were around 23 db of noise reduction. When I bought these I was a little skeptical that they would be the same. Boy was I wrong. These are great. The price is right. The ear cups fit soundly over glasses and seal out noise. The noise suppression which claimed to be 27 db seems to be as stated. All in all I like these a lot and would recommend them to others.
DAA Electronic Hearing Protection EHP27
Alpha Dynamics USA
2908 Betz Court, Orefield, PA 18069

Phone: (888) 628-3233 or (610) 366-9752
Fax: (610) 366-9680
E-mail: sales@doublealpha.biz