Prices shown in USD | All items shipped from PA, USA
DAA Click-Adjustable Powder knob V2
DAA Click-Adjustable Powder knob V2
Reviews:
(Current Reviews:

3

)
The DAA Click-Adjustable Powder Knob V2, is the 2nd generation offering from DAA. Building on the experience and feedback of the first model, this one is, simply put, better!
The two piece aluminum structure eliminates the need to tie the base piece to the powder dropper, and the assembled spring-loaded steel balls (2 of them, for smoother function) make assembly a breeze. (No more battling with trying to keep the steel ball in place which assembling the knob!)
The DAA Click-Adjustable Powder Knob V2 makes setting and adjusting your powder charge much easier and more precise. And it looks so cool too!
The large 32mm round, aluminum machined and laser engraved knob, is knurled around the outer edge making it easy and convenient to rotate the bolt and adjust the charge. The two piece system includes two spring-ball assemblies, which click over pockets in the back of the knob, creating loud audible clicks to accurately rotate the dial in steps of 18deg, 20 clicks per rotation. These adjustments are easily small enough for any practical adjustment of the measured powder charge.
The laser engraved dial indicates direction for increasing or decreasing the charge, and the numbers make it easy to keep track of what the correct position should be for one load or another.
The DAA Click-Adjustable Powder Knob V2 assembles in seconds on your existing Dillon powder dispenser adjustment bolt. A 2mm helen key is required (not included)
Designed for use on the Small Dillon Charge bar. Does not fit the large Rifle charge bar!
Watch the video for assembly instructions.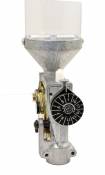 Øystein Rambøl
Date Added: Wednesday 28 November, 2018
Simple to install and works fairly well. Makes the turn a little bit harder but with firm solid clicks. Only problem now is the play in the bolt for the powder measure which throws the adjustments off a bit (3 turns in and 1 back is not like 2 turns in).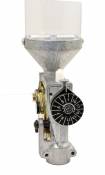 George
Date Added: Sunday 14 October, 2018
Een goede prijs voor iets wat heel goed werkt,en vrij precies is.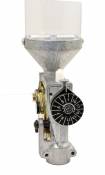 Joe Claflin
Date Added: Wednesday 26 September, 2018
This powder knob is exactly what the Dillon powder measure has always needed. Click adjustable with micrometer like fine tuning so the small powder bar setting stays right where you set it. No movement, no drifting. I love mine. Please make a click-adjustable powder knob for the large powder measure bar.
DAA Click-Adjustable Powder knob V2
Alpha Dynamics USA
2908 Betz Court, Orefield, PA 18069

Phone: (888) 628-3233 or (610) 366-9752
Fax: (610) 366-9680
E-mail: sales@doublealpha.biz